New Apple patent for network booting could lead to cloud-based Mac OS X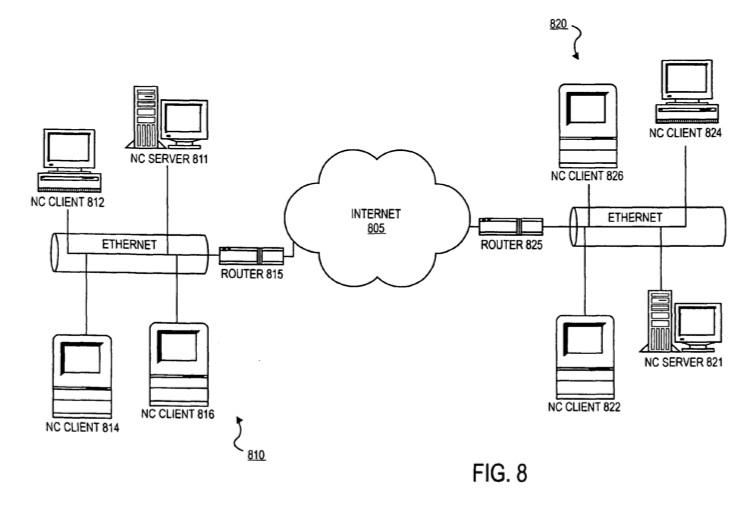 Apple has recently been granted a patent for administering and maintaining a network-booted operating system, possibly laying further groundwork for a cloud-based version of Mac OS X.
Apple was awarded the patent, titled "Method and apparatus for administering the operating system of a net-booted environment," on Tuesday. However, Macs have been capable of booting from a network since the inclusion of the NetBoot feature in the original version of Mac OS X Server.
The patent application describes an environment where "a network computer (NC) system including an NC server and multiple NC clients is managed by an NC client causing the remainder of the NC clients that are subsequently booted to receive operating system software that is configured differently than that currently in effect by replacing one or more system volumes on the NC server containing the operating system software with one or more different system volumes."
The invention simplifies administrator management of multiple network clients by allowing the administrator to customize or update system volumes from any network computer. The software updates and customizations would then be available for any network client to boot from.
Cameron Stuart Burse and Keith Stattenfield are listed as the inventors. The patent was filed for in July 2006 and is a continuation of a patent application from October 1999.
Despite being over 10 years old, the patent has relevant applications today as users have come to perform more tasks over a network, namely the Internet. Apple's patents for a "net-booted environment" could lay both the technological and the legal framework for a version of Mac OS X that moves into the cloud.
Apple rival Google has been pursuing the cloud-based Chrome OS for several years, though the OS has been the subject of numerous delays. Chrome OS, which is based off of Google's Chrome browser, was originally slated to ship by the middle of 2010, but has now been delayed until the first half of 2011.
The search giant has made the Cr-48 notebook, test hardware running Chrome OS, available to some users. Critics of Chrome OS have called it "needless" and "dangerous."
Paul Buchheit, a former Google employee who created Gmail during his time there, predicted in December that "Chrome OS will be killed next year (or "merged" with Android."
Microsoft is also pursuing its own cloud-based operating system, Windows Azure, which will allow applications to run from Microsoft's datacenters.
In October, Microsoft's Chief Software Architect Ray Ozzie, who had led the push for cloud computing and internet services, resigned from his role. Steve Ballmer, CEO of the Redmond, Wash., software giant, stated that Ozzie would not need to be replaced.
In 2009, an embarrassing data loss on the Microsoft servers for the Sidekick raised doubts about Microsoft's reliability in cloud computing efforts.