CES: Samsung eyes Smart TV as center of 'digital hub' as it takes on Apple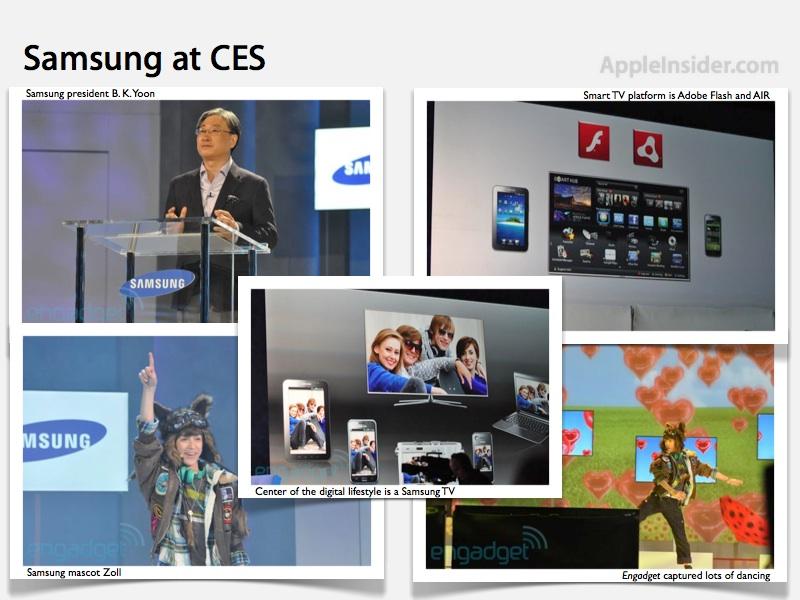 Following its weakest profits outlook in six quarters, South Korean electronics giant Samsung is banking on copying Apple's strategy from ten years ago, albeit positioning its TVs in place of the Mac as the center of a digital hub.
In a lavish, hour long stage production featuring teenage dancers at CES, Samsung outlined an aggressive new push behind smart TVs, as reported by Engadget.
Company president B. K. Yoon was joined on stage by Zoll, a dancing teen dressed up in a fur hat and goggles, who introduced the concept of a future based on "emotional technology" in a series of skits.
"To satisfy customers, technology must embed the human emotion," Yoon said. "How can we take digital humanism a step further? How do we envision the future of our digital devices? These are the questions I struggle with on a daily basis."
"I am confident that the Samsung smart TV will become the leader in integrating services and content," Yoon said, adding that "Samsung plans to develop a cloud-based platform[…] we are dedicated to making our devices the best gateway to storing, sharing, and playing content from the cloud."
Samsung brought the rival chief executives of Comcast (Brian Roberts) and Time Warner Cable (Glenn Britt) on stage, then referenced a partner who would "provide the essential tools for cross-platform app development."
Roberts announced that "Glenn and I are thrilled to team up with Samsung," saying that the company's Smart TV would be a "revolution." The trio demonstrated an app that enabled users to change the channel using the $600 Galaxy Tab as a remote. Samsung's tablet device will eventually be able to watch cable programming directly.
Jason Kilar of Hulu appeared on stage to demonstrate the company's Hulu Plus app running on Samsung's Android-based Galaxy S smartphone. The app should be available soon.
Samsung then greeted Adobe's chief executive Shantanu Narayen, who presented the company's Flash-based AIR platform as the basis for Samsung's app development across its Smart TVs, smartphones and tablet devices.
"Samsung is the first device manufacturer in the world that's making these developments a reality across all the screens," Narayen said.
Yoon said Samsung's Smart TVs will support Flash as a "must-have for anyone playing web-based content."
Taking an apparent stab at Google and its currently stagnant Google TV initiative with Sony and Logitech, Yoon stated, "The biggest misconception people have about Smart TV is that it's just a TV with a PC inside […] A TV does not become smart just because it can access the internet."
The company also demonstrated its 3D TV technology and detailed its efforts related to green initiatives before ending the production with more dancing.
On page 2 of 3: This all happened before.
Samsung's 2011 CES production, minus the dancing, is familiar in that it copies the strategy Apple's chief executive Steve Jobs presented a decade ago at Macworld Expo 2001. Back then, Apple positioned its flagship product, the Macintosh, as the center of a digital hub, with connections to moible phones, digital cameras, camcorders, music players, DVD players and PDAs— at a time when PCs were losing steam and failing to attract enthusiasm from consumers, much as Samsung's TV business is today.
Jobs cited a quote from Wall Street Journal writer Walt Mossberg, who Jobs called "one of the smartest journalists in our business," who had recently written that "The PC, which has carried the digital revolution for 24 years, has matured into something boring."
After noting comments from Compaq ("we don't think of it in terms of thePC business anymore") and Gateway ("we are clearly migrating away from the the PC as the centerpiece") chief executives, Jobs countered, "we don't think the PC is dying at all. We don't think the PC is moving away from the center at all. We think it's evolving."
Jobs laid out a path of PC evolution that defined the early 80s as an initial "golden age" of computing based on productivity software, which began to wane in the early 90s. A "second golden age" began in the mid 90s with the rise of Internet, Jobs said, but it too had began to lose its momentum by 2000. Jobs said he believed a third age would focus on a digital lifestyle, driven by an "explosion of digital devices."
"The Mac," Jobs said, "can become the 'digital hub' of our emerging digital lifestyle, adding tremendous value to our other digital devices." Jobs said PCs could be the center of this digital hub because they had the horsepower to run complex applications that other devices lack, and provide large, inexpensive disk storage, can burn discs, and offer big screens and fast networking.
Jobs touted iMovie as "adding tremendous value to your camcorder," an example of how Apple could combine its hardware and operating system technology with application development, internet access and marketing to present a solution that enabled users to edit their own videos and then stream them over the web to their friends.
Jobs said Apple was unique in the industry in being able to put together all of these components, and noted that the company saw apps as the "glue" used to attach digital devices to the Mac hub, citing the existing iMovie, iTunes and iDVD and noting that Apple was working on new ones.
On page 3 of 3: Apps without a place.
Ten years later, if Jobs could update his 2001 presentation, he might define a fourth golden age of computing oriented around mobile devices now able to run complex apps and store as much content as desktop computers could a decade ago, while also connecting to fast wireless networks.
The Mac has also evolved, with this year's release of Mac OS X Lion expected to adopt major facets of its interface and behaviors from iOS (including downloadable apps that save documents automatically, quit instantly, and keep themselves updated).
While Samsung delivers products that are modeled after Apple's past successes, ranging from its iPhone-like Galaxy S to its new iPod touch doppelgänger Galaxy Player and the iPad nod of the Galaxy Tab, Samsung lacks Apple's operating system and development platform technology and focus.
The company builds smartphones using a wide range of platforms, from Windows Phone 7 to Android to its own Bada. Its Smart TVs and Blu-ray players run web apps that run on the Maple Browser using web standards, and also support Flash 8.0 and Flash Lite 3.1 content. Future Smart TVs will run AIR 2.5 and support Flash 10.1.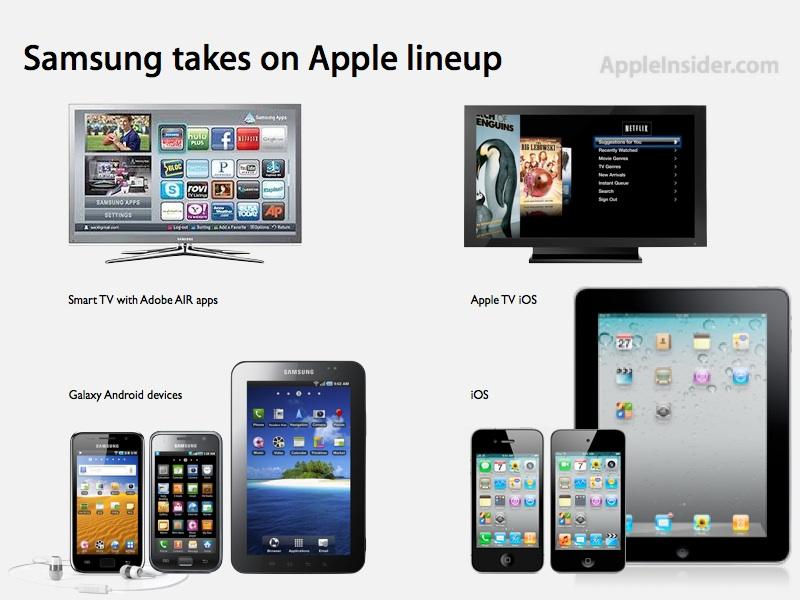 In theory, Adobe AIR should enable developers to build an app they can port across multiple devices, from Android devices to RIM's new PlayBook to Samsung's new Smart TVs and Blu-ray players. However, according to a report by ZD Net, RIM developers eying the PlayBook have said that "AIR apps can be tough to port," and that "BlackBerry's biggest developers are unlikely to use AIR," preferring instead to wait for RIM to deliver a Java development kit.
Android developers have historically been attracted to that platform because of the familiarity of working with its familiar, Java-like virtual machine. Meanwhile, neither AIR nor Java nor Android has delivered a sustainable business model like the one Apple has built around its own custom App Stores for the iOS and, as of this week, the Mac.