Google Android passes Apple's iPhone in total US subscribers - comScore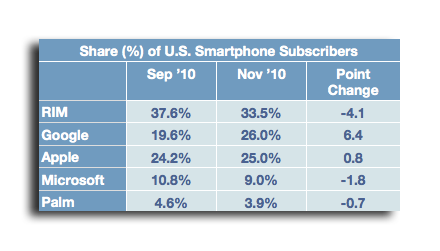 AppleInsider may earn an affiliate commission on purchases made through links on our site.
Strong sales of phones running Google Android throughout 2010 have managed to push the mobile platform past Apple's iPhone in total active subscribers for the first time, according to comScore.
The research firm released its latest figures this week, revealing that Android was the second-largest mobile platform in November of 2010. Google jumped past Apple even though the iPhone did not lose any share of the market, percentage wise.
Android continued its fast growth, taking another 6.4 points from its previous total in September to give it 26 percent of the U.S. market of smartphone subscribers. Android now only trails Research in Motion, which lost 4.1 points to hold 33.5 percent of the market.
Apple and the iPhone came in third, representing 25 percent of the total domestic market. The Cupertino, Calif., company gained 0.8 points from its share in September.
Of course, Apple's smartphone presence consists solely of the iPhone, while handsets running Google Android are represented by a number of manufacturers and many more devices.
Behind Apple was Microsoft, which slipped from 10.8 percent in September to 9 percent in November. Microsoft's new mobile platform, Windows Phone 7, launched in November.
In all, comScore found that there were 234 million Americans ages 13 and over using mobile devices, with just 61.5 million of those being smartphone owners. But the smartphone market continues to grow, increasing in size by 10 percent in November, versus the previous survey from September.
Quarterly sales of Android phones were first reported to have passed the iPhone in May of 2010. The new data from comScore represents devices actively being used, rather than current sales figures.