Patent lawsuit accuses Apple of display-related infringement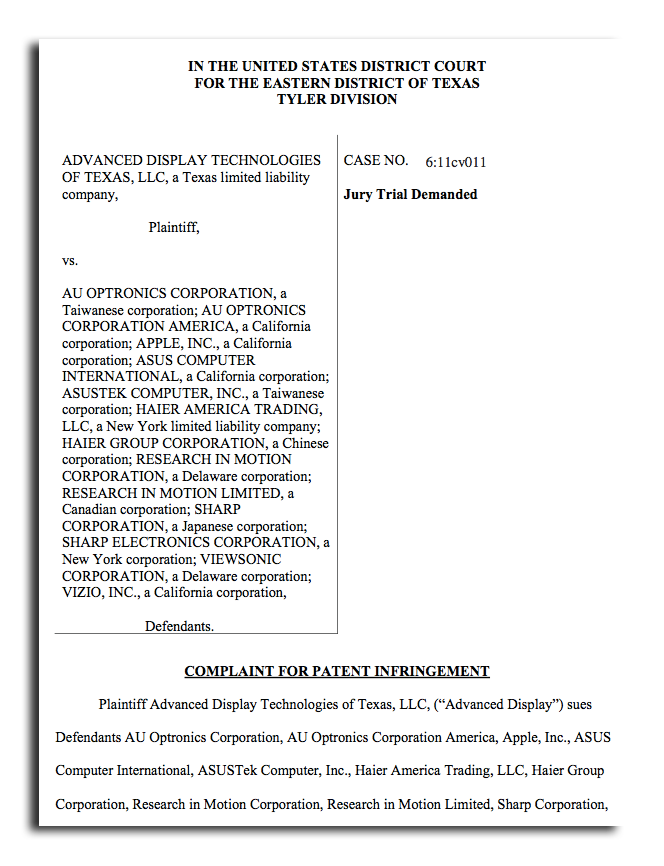 AppleInsider is supported by its audience and may earn commission as an Amazon Associate and affiliate partner on qualifying purchases. These affiliate partnerships do not influence our editorial content.
Apple joins a number of electronics companies and TV manufacturers as the target of a new lawsuit alleging infringement of patents related to display technologies.
The new lawsuit filed by Advanced Display Technologies of Texas LLC claims Apple and others are infringing on U.S. Patent No. 5,739,931, "Illumination System Employing an Array of Microprisms," and U.S. Patent No. 6,261,664, "Optical Structures for Diffusing Light."
No specific Apple products are named in the suit, but the broad complaint accuses the Cupertino, Calif., company of patent violations with "computers, computer monitors, mobile telephones, and mobile media players." That would mean the lion's share of Apple products, including iPhones, Macs and iPods, are claimed to be in violation of both the '664 and '931 patents.
Apple is far from alone in the suit, joined by a number of other high-profile technology companies in the Advanced Display Technologies complaint. Among those named are computer maker Asus and rival smartphone maker research in motion.
Unsurprisingly, the display-related complaint also targets a number of companies that specialize in building television sets and computer montiros. Among those named are Haier, Vizio, Viewsonic and Sharp.
Though the lawsuit lists the company as "Advanced Display Technologies," a similarly named "Advance Display Technology" exists online at the website adtimediainc.com. That company describes itself as "a worldwide leader in proprietary digital display products specifically engineered for the human optical system."
One of the company's products is a mesh outdoor LED display architecture known as "SkyNet," claimed to feature "the latest in LED technology, design, durability and support.
The complaint was filed in a U.S. District Court in the Eastern District of Texas, where patent lawsuits are often initiated in hopes of a favorable outcome.