Chinese supplier floating iPad 2 case with possible SD card and Mini DisplayPort recesses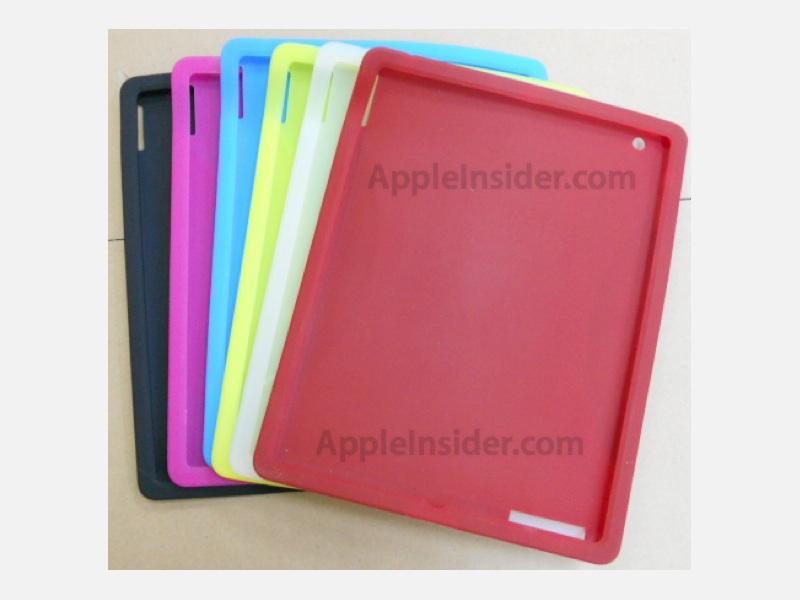 Exclusive: A Chinese accessory supplier is floating a new "iPad 2nd generation" case differing from previous designs shown at CES, with port openings that appear to be designed to accommodate a new SD Card slot and a new port consistent with the size of a mini DisplayPort jack.
The flexible silicon case designs parallel previous models that have been shown in both hard plastic and rubberized material, with a standard dock connector at the bottom, an opening on the lower right rear that is believed to be for an enlarged internal speaker, a new rear facing camera on the top right, and customary holes for the headphone jack, mute switch and volume controls.
One of the previous designs also included documentation that referenced an SD Card slot and a front facing camera, but did not indicate an opening where the card slot might be located, unless it were integrated into the speaker port area, which would seem unlikely.
However, unlike the previous "alibaba" cases, the newest case design to surface shows a very distinct cutout on the rear upper left corner (a blank area on the current iPad) that appears to be consistent with the size of an SD Card slot. The new case also depicts a cutout on the center of the top edge that appears to be the size of a mini DisplayPort jack, located between the camera hole and the headphone port. This is where the micro-SIM slot is located on 3G versions of the iPad, but it would be curious to cut a case to permanently expose the SIM card holder.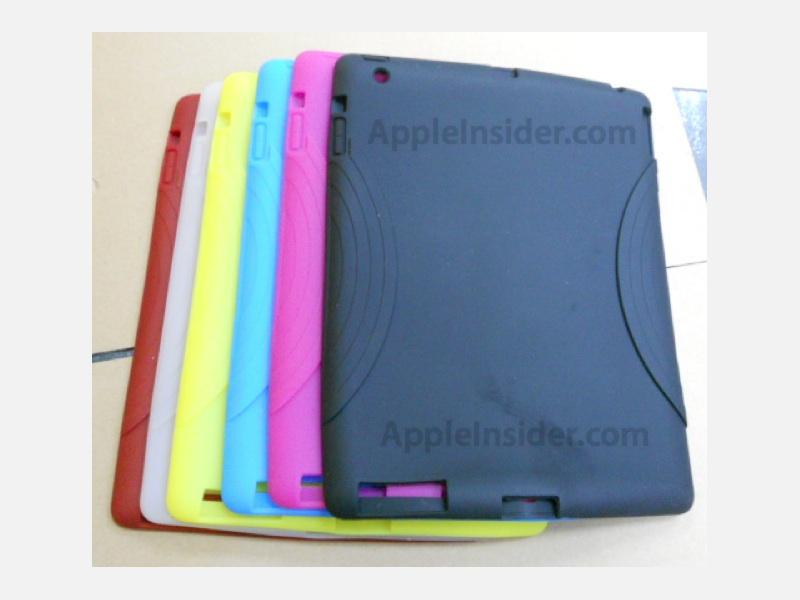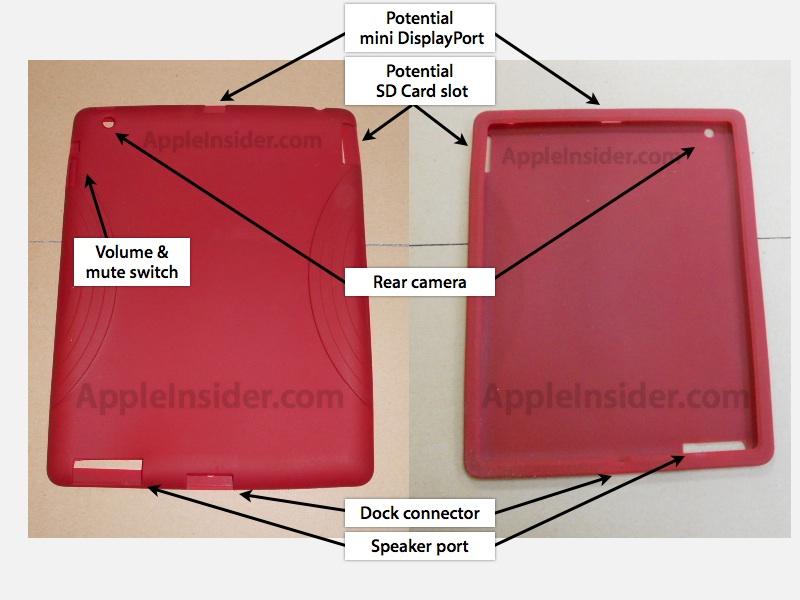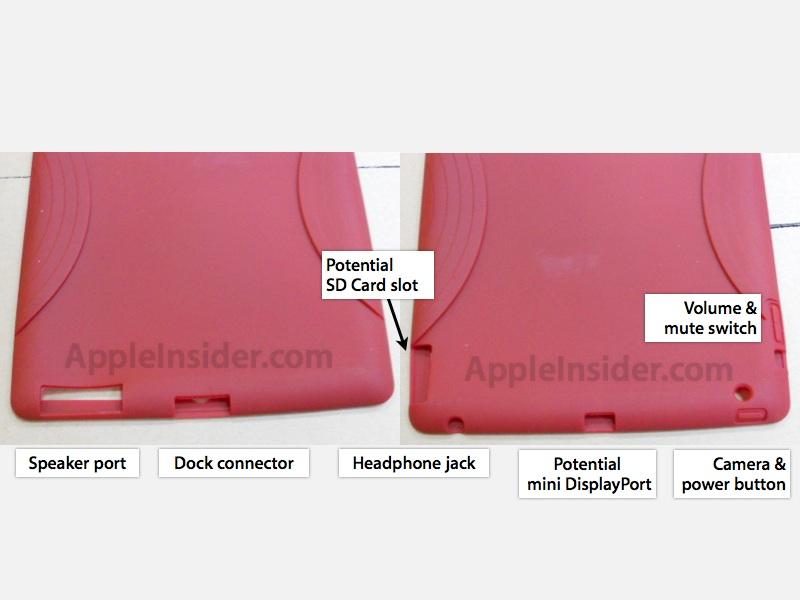 Mini DisplayPort is also roughly the same size as USB, but the iPad's existing Dock connector already supplies USB signals, which can very easily be accessed via a the appropriate cable. The existing iPad lacks a convenient HD video output connection however.
Apple currently supports only component and composite video output as well as VGA-style video out on iPad, in addition to wireless AirPlay video streaming. iPad hardware outputs are limited to standard definition video (480i composite and 480p component output using Apple's cable kits) or 1024x768 VGA-style output using the appropriate Dock connector video extractor cable. That means there's currently no way to send HD video from an iPad to an HDTV unless it supports VGA input, or unless you stream through Apple TV wirelessly via AirPlay.
HDMI video output for more than Apple TV
A number of existing tablets and smartphones are beginning to include mini-HDMI output, and the new Apple TV supplies HDMI video output as its only option. If iPad 2 does indeed increase its screen resolution to 2048x1536 as is rumored to be the case, there would be no way to deliver that increased resolution (or even a down-sampled HD 720p or 1080p signal) via the existing pinouts on the standard Dock connector port.
Apple could potentially change the 30 pin Dock connector on iPad 2 to support HDMI video at the expense of component and composite out and other features, but HDMI output requires at least 19 pins to itself, making efforts to mix HDMI, USB, analog audio, and other control signals a tight fit for the already rather saturated Dock connector.
For that reason, Apple may instead choose to add a HDMI output via a separate connector, just as competitors generally supply separate USB and HDMI ports. This would also simplify charging the device while using it for cabled video output.
Mini DisplayPort on iPad?
Apple is perhaps more likely to add video output via mini DisplayPort, which is around the same physical size as mini HDMI, but supports more sophisticated signaling, and is already used across the company's MacBook and desktop Mac product lines.
Apple's mini DisplayPort connectors function as "dual mode" ports supporting HDMI output, so the inclusion of a mini DisplayPort on iPad 2 would enable both output to HDTVs via HDMI as well as, potentially, connection to a full resolution monitor such as Apple's 27" LED Cinema Display.
A third potential advantage to using mini DisplayPort is that the standard supports video input, as Apple has implemented on the 27 inch iMac. If supported, this would enable iPad 2 to be used as a very high resolution external display by any Mac with mini DisplayPort output.