Apple iPad sales slamming hard drive makers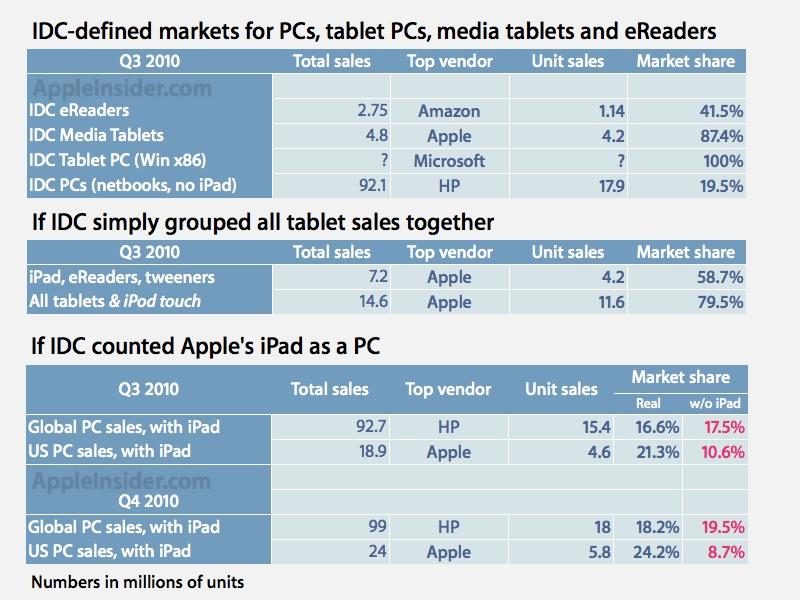 The outlook for hard drive manufacturers is getting jolted by the popularity of Apple's iPad as the market wakes up to the reality that a significant segment of personal computers will no longer user mechanical hard drives.
New earnings reports from both Western Digital and Seagate Technology specifically cite tablets as being a risk to future sales, according to a report published by TickerSpy.
Seagate noted, for example, that its fiscal second-quarter results "tumbled by 72 percent due to slack demand for hard drives," the report said.
Bleak outlook for hard drives caused Seagate's stock to slide 7 percent, Quantum lost 6 percent, Western Digital dropped by 5 percent, while the entire Data Storage Stock index was down 2.9 percent.
iPad sales blast through the PC roof
Apple sold more than 7.3 million iPads in the last quarter of 2010, for a total of more than 14.7 million in its first three quarters on the market. "The demand has just been amazing and this is off to an incredible start," Peter Oppeneheimer, Apple's chief financial offer, said in yesterday's quarterly earnings conference call.
When asked when iPad supply would be able to comfortably meet demand, Apple's chief operations officer Tim Cook answered, "we honestly don't know," indicating that the company itself has been surprised by its initial sales.
Cook said that iPad is not following the typical early adopter curve. "We want to take full advantage of it, and so we are investing enormous time and resources in increasing our capability in getting iPad out to as many people as we can," Cook said.
Hard drive sector problems on the rise
Because the iPad uses flash storage memory similar to the iPhone and iPod touch, it doesn't need to include a conventional mechanical hard drive. Apple began shifting its iPod user base toward flash-based models with the iPad nano, and accelerated the trend with the flagship iPod touch that now makes up half of all iPods sold.
But it's not just sales of new iPods and iPads that are the knocking against the future of component demand growth in hard drives. Conventional PC form factors, and in particular notebooks and netbooks, are being eaten up by iPad sales in increasing numbers, both by consumers and in corporate circles.
Apple's chief executive Steve Jobs previously described iPad demand as its being "grabbed out of our hands" by business users.
Apple's ecosystem makes its own rain
Because most conventional PC products use hard drives, the growth of iPad at their expense is both depressing hard drive demand and creating excess supply, an issue that threatens to shift production and investment away from hard drive technologies and toward flash RAM storage.
In the meantime, Apple also benefits from more favorable component pricing in its devices that continue to use hard drives, including iMacs and most MacBooks, which are differentiated enough from iPad to prevent a cannibalization problem.
PC market analysts have, so far, sought to ignore the iPad even while celebrating the rise of netbooks in previous years. Recent reports on the PC market by IDC and Gartner bent over backward to avoid uttering "iPad," instead using "media tablet" as a polite euphemism for a force they had to admit was making a huge impact on PC sales, even as they both refused to include iPads into their definition of the personal computer market.
IDC has specifically invented three new tablet "markets," one for eReaders, one for so called "media tablets," and a third for conventional Tablet PCs running Microsoft's Windows.
This allows the company to isolate Apple's top selling device and pretend that it isn't part of either the PC market or even a narrower general tablet market, when iPad is actually, and uncontroversially, causing major upheavals in the PC market and dominating tablets of all definitions, from expensive Tablet PCs to $130 eReader devices sold at discounters.
A similar problem has already emerged for DRAM makers, who are seeing the growth in netbooks and notebooks (which often pack 4 GB of DRAM) dry up as the iPad replaces them with a design that includes less than 512MB of DRAM.
Apple benefits both from cheaper RAM commodity prices on its machines that use large amounts of RAM, while also being able to offer iPad at a cheaper price point because it doesn't require as much RAM as most competing tablets and low end netbooks running Windows 7.
Following in the steps of iPad, Apple has already released popular MacBook Air models that replace a conventional hard drive with a flash RAM SSD (Solid State Disk) module. Apple appears set to migrate other Mac products to SSD as well.
Last year, Apple also redesigned its slow selling Apple TV to take on a new iOS form factor that uses flash RAM storage, no hard drive, costs much less and is smaller. Sales have increased significantly since.