Verizon will offer only $30 unlimited data plan for iPhone 4 users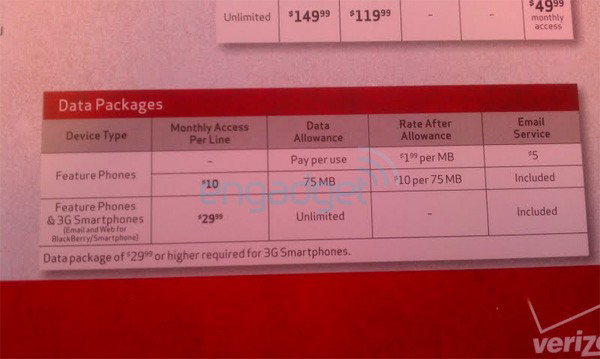 A leaked memo from Verizon shows that the carrier will no longer offer its entry-level capped data plan smartphones, requiring new iPhone 4 customers to buy the $30-per-month unlimited offering.
The new pricing, leaked to Engadget, shows that Verizon intends to cease its $15-per-month 150MB data plan. Buyers of new 3G smartphones will be required to pay $29.99 per month for unlimited data allowance.
The change is reportedly set to come as Verizon prepares to offer a CDMA variant of the iPhone 4 to its customers on Feb. 10.
For comparison, AT&T offers an entry-level $15-per-month plan for smartphones that offers 200MB of data. The company's high-end plan, dubbed "DataPro," offers 2GB of capped data for $25 per month.
The leaked information from Verizon shows that the carrier will offer a low-end 75MB plan at a cost of $10 per month. But that option will only be available to "feature phones," which are less powerful than smartphones like the iPhone or those running the Google Android operating system.
When Verizon revealed earlier this month that it would offer Apple's iPhone 4, the carrier declined to offer specifics on data plans. But reports indicated that Verizon intends to offer its unlimited plan, in contrast with AT&T, which only offers capped options.
Still unknown is how much Verizon intends to charge for the personal hotspot feature set to ship with the CDMA iPhone and its unique iOS version of 4.2.5. Currently the carrier offers tethering for $30 per month with a 5GB data cap.