Netflix says Apple TVs streaming more of its movies than iPads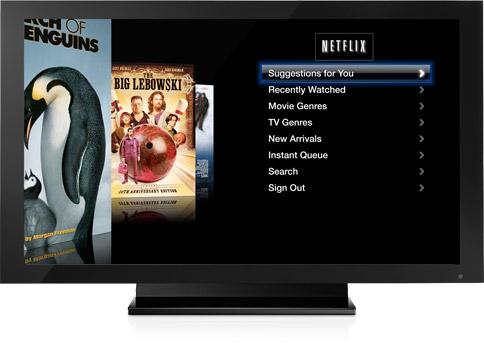 Within Netflix earnings release, the company noted that Apple TV's support for its Watch Instantly video streaming has already passed up iPad users in viewing hours.
The revelation comes as somewhat of a surprise, given that Apple has now sold over 15 million iPads, while Apple TVs capable of playing Netflix have just recently sold over a million units. The previous generation of Apple TV first launched in 2007, but doesn't stream Netflix content.
The capability to play content from Netflix debuted last September with the new iOS Apple TV, making it less than four months old. In contrast, the service has been available on iPad since April.
Apple TV connects to user's HDTVs directly, making it easier to watch hours of content without the potential for interruption, while iPad users are more likely to check their mail, play a game, or have their device commandeered by a spouse or child before they can finish a full length movie.
Netflix noted that iPad use is "also-growing," and that its iPhone app is also "very popular," although the most popular devices for using its service were identified as being ones with "large installed bases," specifically Windows PC and Macs, the Sony PS3, Microsoft Xbox 360, and Nintendo Wii.
Netflix hasn't given up on Google TV
Apart from built in support for Netflix, Flickr and its own MobileMe, Apple doesn't yet support the capability to add third party apps to Apple TV. The company identified Google TV and Internet connected BluRay players and smart TVs as "big growth categories," noting that while Google's efforts have "not yet gone mainstream," the concept "is powerful."
On the subject of TV devices using Android or Chrome OS, Netflix added that "we're confident that they will be very successful, and we are investing in our Google TV application."
So far, Google TV has been a poorly managed disaster that consumers don't seem to see the value in, but Apple's own TV product also took years to gain adoption.
Last summer, Apple's chief executive Steve Jobs responded to a question about the future of smart TV by saying it was a difficult problem to solve because cable companies "give everybody a step top box for free, or for $10 per month. That pretty much squashes any opportunity for innovation, because nobody's willing to buy a set top box."
At the time Jobs quipped, "Ask Tivo, ask Replay TV, ask Roku, ask Vudu, ask us, ask Google in a few months," challenging the wild exuberance then supporting Google's newly released plans to take over the living room with Android-based Google TV devices.
Jobs has long referred to Apple TV as a "hobby," and stated that the market for smart TVs is "not a problem with technology, not a problem with vision, it's a fundamental go to market problem."
Cable operators offer a "balkanized" global network of different standards and different government approvals needed to act in the role of a broadcaster. "I'm sure smarter people than us will figure this out, but that's why we say Apple TV a hobby; that's why we use that phrase," Jobs said.