Gaffe on Apple's German website again hints at white iPhone 4 launch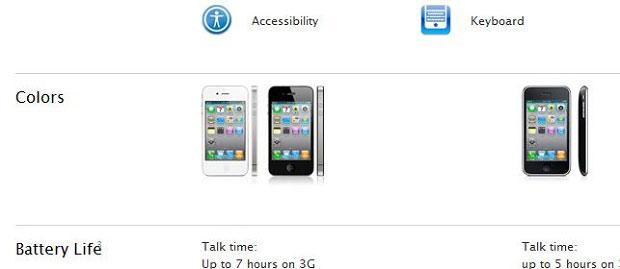 AppleInsider is supported by its audience and may earn commission as an Amazon Associate and affiliate partner on qualifying purchases. These affiliate partnerships do not influence our editorial content.
In the latest bit of anecdotal evidence to suggest Apple is finally gearing up to release the white version of the iPhone 4, one of the company's international sites briefly displayed a photo of the device Thursday before it was abruptly pulled.
That's according to TechCrunch, which snapped the below screenshot from Apple's German website before the site was reverted back to referencing only the black model less than 20 minutes later.
For Apple, it's the second false alarm regarding the white iPhone to make headlines in as many days. Early Wednesday morning, a Twitter post attributed to a source often privy to last minute part numbers noted that it "Looks like the white iPhone is finally coming" and that the new models would carry Apple part numbers MC604X/A and MC606X/A for the 16GB and 32GB models, respectively.
Both reports also followed close on the heels of claims that Apple recently partnered with a Japanese company to develop a new white paint material that allows for greater control and precision when it comes to the thickness of the paint layer being applied to the handsets. With this material, Apple has reportedly been able to successfully manufacture white iPhone 4 that meet its high level of standards.
Using earlier painting methods, Apple's attempts to manufacture the white iPhone 4 were said to have resulted in a "huge" number of defective handsets. The percentage was said to be so high that Apple simply could not proceed with manufacturing of the white iPhone 4 until a solution was produced.
As such, Apple last July said it would delay the launch of the white iPhone 4 until later that year, only to follow up those claims with a word of a second delay in October that would reportedly push the models availability out until sometime during the Spring of 2011.
With the influx of recent evidence, which also included internal stock listings at AT&T and Best Buy, it would appear increasingly likely that Apple may be preparing to commence sales of white iPhones on or around the same time that it launches the touch-screen handset on Verizon's network come February 10th.