Samsung admits its iPad-rival Galaxy Tab sales were actually "quite… smooth?" [u]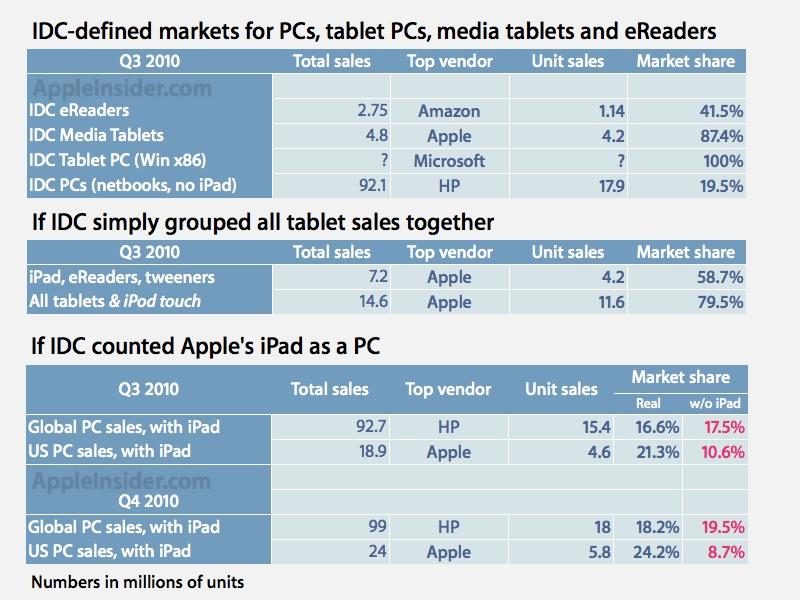 AppleInsider may earn an affiliate commission on purchases made through links on our site.
After boasting last fall that sales of its Galaxy Tab were "faster than expected" and had reached 2 million, Samsung has now admitted to analysts that its figures were only "sell-in" inventory shipped to retailers, and that actual units bought by consumers were "quite small."
Update: Samsung has since noted that rather than "quite small," the executive said "quite smooth," an interesting description of sales that provides little hint at just how many devices actually sold to consumers. Reports of deeply discounted Galaxy Tab offers, and a return rate of 16 percent suggest that "smooth" might also be the wrong word.
Sales of Samsung's Galaxy Tab were closely watched last fall because the device represented the first generation of Android tablets to take on Apple's iPad, as it was the only Android tablet device that was actually reported to be selling in any real quantity.
A month after announcing plans to launch its new 7 inch tablet on all four US carriers at an event in September, Samsung claimed it had sold 600,000 units, and by the end of the quarter it had reported sales of 2 million.
However, in the company's quarterly earnings call with investors on Friday, Samsung executive Lee Young-hee clarified that those numbers related only to inventory channel stuffing, and did not represent actual sales to end users, according to a report by Wall Street Journal blogger Evan Ramstad.
By "sales" we mean unsold inventory
"As you heard," Lee replied to a question asking for more detail on Galaxy Tab sale numbers, "our sell-in was quite aggressive and this first quarterly result was quite, you know, fourth-quarter unit [figure] was around two million.
"Then, in terms of sell-out, we also believe it was quite smooth. We believe, as the introduction of new device, it was required to have consumers invest in the device. So therefore, even though sell-out wasn't as fast as we expected, we still believe sell-out was quite OK."
"Sell-in" refers to sales to retailers and channel distributors, while "sell-out" refers to the actual sales made by retailers to consumers.
The report said Lee was "quite optimistic" about future sales but that she wouldn't forecast sales for 2011. "As you know," Lee said, "the tablet is relatively new and we need to see how the market develops before we give any firm numbers."
Apple has been selling the iPad since April, giving it a head start over the Galaxy Tab of about two quarters. However, Apple sold 3.27 million in its first partial quarter, 4.19 million in its second, and 7.33 million in its third, with global demand regularly outstripping Apple's ability to build enough units during the year.
Samsung's reported "sales" of the Galaxy Tab were sufficient to distort market share in the "tablet market," inducing one firm to report that Apple's share of tablet sales with the iPad had shipped from 95 percent to 77 percent due to supposedly surging demand for Android-based tablets.
"The Samsung Galaxy Tab was the main driver of Android success," reported Neil Mawston, a director at Strategy Analytics. His firm contrasted Apple's sales of more than 7.33 million iPads against collective Android shipments that had reportedly jumped from just 100,000 in the previous quarter to 2.3 million in the winter quarter.
The vast majority of that "jump" was Samsung's unsold inventory of 2 million units shipped but not sold, leaving the real number of Android tablets actually sold to consumers and in use "quite small."
Gartner and IDC have similarly imagined a market for "media tablets" much larger than the iPad itself, but both still admit that Apple's iPad is the only significant member of this group, which the reporting companies currently segregate from PC and netbook sales, Windows-based Tablet PCs, and low end tablets oriented toward ebook reading.
Tablet market greatly exaggerated
The Journal report noted that a Samsung spokesman responded in an email today saying "that most media accounts treat Galaxy Tab as 'a noteworthy accomplishment,'" adding, "I believe the company, overall, is on the same page."
Major initial reviews of the Galaxy Tab characterized it as a product that 'needs work,' was "not exemplary," and "not without frustrations," even as the reviewers bent over backward to describe it as a potential "real rival" to the iPad.
In its more technical review examining the Galaxy Tab's HTML5 capabilities, Sencha described the device as odd and disappointing, with missing support for key web technologies, poor performance in general due to a lack of hardware accelerated animation, poor media performance, and a strange device pixel ratio that "makes the Galaxy slightly bigger than a regular phone screen in CSS pixels, but not really big enough to handle what people want to put in a tablet screen."
Samsung is not alone in reporting channel stuffing as sales. In the same quarter, Microsoft used similarly creative inventory channel "sales" reporting to create the impression that Windows Phone 7 devices were selling to users, when in fact just 1.5 million devices had been shipped to resellers in hopes that some would eventually sell.