News Corp's 'The Daily' launches on iPad with Apple's in-app subscriptions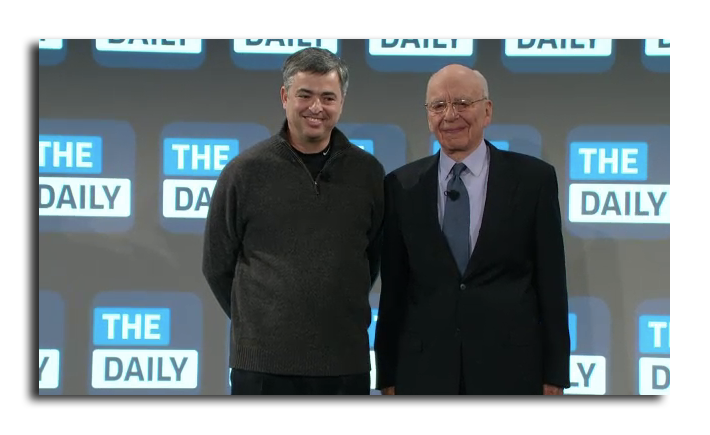 Apple on Wednesday launched a new in-app subscription service on its App Store for the iPhone and iPad, alongside a new daily newspaper for the iPad from News Corporation, dubbed The Daily.
A new "In-App Subscriptions" section was added to the iTunes Terms and Conditions to explain how in-app subscriptions auto-renew, how the auto-renewal can be managed and turned off, and stating to users that Apple may request permission to provide personal information to third parties for marketing purposes. The sharing of information can be declined, which will not affect the purchase.
The subscription feature plays a key part in the new tablet-only newspaper from News Corp., called The Daily. The publication was unveiled Wednesday in New York City by the company's chief executive, Rupert Murdoch, who said the product aims to capture the "serendipity and surprise" that traditional newspapers offer, but in a digital format on the iPad.
"New times demand new journalism," Murdoch said. The publication will cost 99 cents per week, and the first two weeks are free courtesy of Verizon. News Corp. spent $30 million to prepare the publication for Wednesday's launch.
For now, the subscription feature is only available from The Daily, though Apple will make an announcement in the near future about recurring subscriptions for other content providers and application makers.
A live demo of The Daily was conducted, showing off features like 360-degree photographs, interactive content, high definition video, and traditional newspaper staples like horoscopes, weather and crossword puzzles.
The central navigation experience is known as "the carousel," where stories are represented visually on tiles. Users can swipe through pages and sections with their fingertips, shuffle random unread stories, or have stories conveyed in audio and video formats.
Stories can be quickly shared on services like Facebook or Twitter, or sent via e-mail. The application also allows users to record text or audio comments for a story.
The publication also offers an 'Apps and Games' section, complete with reviews of iPad software and links to the App Store. Also demonstrated were the interactive elements of the sports section of The Daily, complete with customizable scores and stats for a reader's favorite teams. Even a team's "tweets" from Twitter can be integrated into a custom sports page.
The publication will be updated every morning, but more frequent updates will be possible throughout the day for breaking news or story updates.

Apple's Eddy Cue, left, with News Corp.'s Rupert Murdoch jointly unveil The Daily Wednesday.
Apple's iTunes chief, Eddy Cue, appeared at Wednesday's event, and noted that more than 200 million news applications have already been downloaded for the iPad. He said The Daily has an "amazing team" of reporters, designers and editors that will make it a premier publication.
"It's incredible to believe that something of this production value can be done every single day," he said.
Cue also talked briefly about the new subscription plans within the App Store. The Daily will run 99 cents per week, or annual subscriptions will cost $39.99.
He was also asked about enforcement of App Store policies regarding content being sold within applications available for download. Cue said Apple wants to ensure that customers can get content "both from our device and our App Store, and from other websites and ways that they get them."
Murdoch said that The Daily will not remain exclusive to the iPad, though he expects Apple's touchscreen tablet to remain the dominant player in the tablet market for some time to come.
"We would expect to be on all major tablets, but we believe last year, this year and maybe next year really belong to Apple," he said. "That's just a market judgment."