Apple iAds twice as effective as TV ads for Campbell's Soups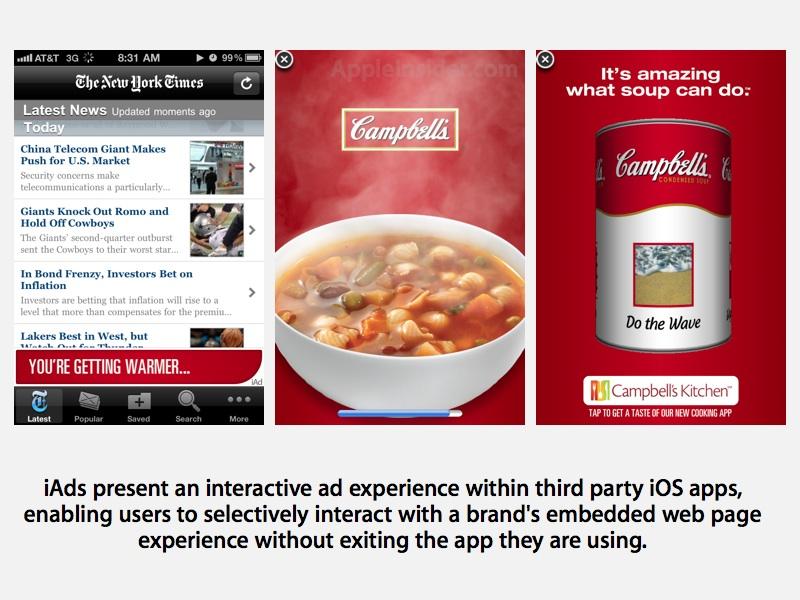 AppleInsider is supported by its audience and may earn commission as an Amazon Associate and affiliate partner on qualifying purchases. These affiliate partnerships do not influence our editorial content.
A Nielsen advertising effectiveness study commissioned by Apple and Campbell's Soups to evaluate the soup brand's iAd campaign said viewers were twice as likely to recall seeing it, three times as likely to remember the ad message and five times as likely to remember the brand as viewers who saw it on TV.
Those who experienced the Campbell's iAd were also four times as likely to express an intent to buy the product, and said they liked the ad five times more than those who had seen the campaign on TV, according to a report by Advertising Age.
Jennifer Gordon, the director of global advertising for Campbell's, added that Apple's iAds had also exceeded the firm's expectations for static online banner ads.
"We have a lot of data that goes many years back for TV print, out of home and radio, but we're searching for more validated metrics in mobile," Gordon said in the report. "This does show, in really traditionally brand metric terms, that iAd really outperformed."
In August, Nissan similarly reported that iAds generated five times the interest of traditional online display ads, while Unilever also reported success for its Dove brand iAd campaign.
App developers have also reported that iAds have greatly increased their returns from ads, with Dictionary.com saying it could now charge 177 percent more from advertisers, and CBS Mobile similarly reporting very high CPM rates for its iOS apps, thanks to iAd.
iAds effective through interaction
While the effectiveness of iAds may be related in part to their exclusively targeting a more affluent demographic of early adopters (as iAds are only visible on Apple's iPhone, iPod touch and iPad), another clear aspect of their effectiveness is the use of a directly interactive experience that the user directs and thinks about, rather than just passively seeing on TV or in a banner ad next to the content they are focusing on.
Campbell's iAd presents its soup products not just in attractive pictures, but with incorporated in interactive mini-games, along with a message about how the brand's soups offer variety, reduced sodium levels, and how they can be used in recipes to prepare quick meals.
John Faulkner, the director of brand communications at Campbell's, told Mobile Marketer "iAd is one of the tools we are using this year to disrupt people's perceptions, bring soup to front-of-mind and celebrate all that is new about Campbell's condensed soup."
Apple set out to change how mobile ads would work last year after buying Quattro Wireless just one year ago for an estimated $275 million.
The company then unveiled iAd along with iOS 4.0 in April, describing it as "a new form of mobile advertising designed by Apple to deliver the interaction and emotion currently lacking in the mobile space."
Apple's chief executive Steve Jobs described existing mobile ads as ineffective, pointing out at the time that "if you look at advertisements on a phone, it's not like on a desktop. On a desktop, its about search. On mobile, search hasn't happened. People aren't searching on their phones. People are spending their time in apps."
Departing from the rest of the industry, Apple launched iAd as an opt in experience that is presented within apps rather than jumping users out of the app to a web browser as conventional banner ads do. Jobs described iAd as being built in HTML5, and Apple has since delivered a graphical iAd Producer tool for building animated, interactive ads using web standards.
Observers have noted that building iAds in HTML5 enables Apple to effectively encapsulate the ad experiences without the security aspects of delivering full mini-apps built in native Cocoa, making it less likely for an advertiser's inadvertent bug to threaten the functionality or expose the data of a third party app it might appear in.
That design, requiring OS level support for an embedded browser, also makes iAd harder for other ad networks to copy. However, a variety of mobile advertising networks are working to duplicate the essential concept of delivering immersive ad experiences that users would actually be attracted to peruse.