Apple's iPod classic 5th most popular media player in 2010, unlikely to go away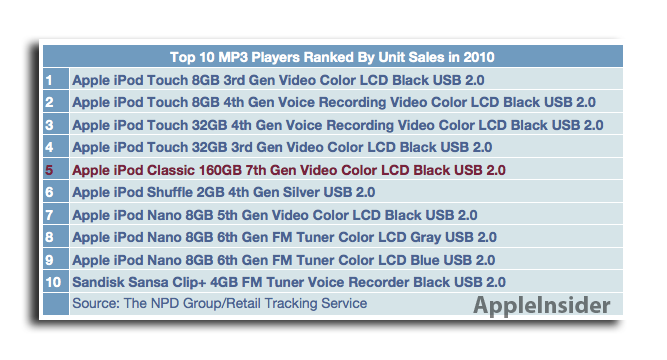 AppleInsider may earn an affiliate commission on purchases made through links on our site.
Apple's black 160GB iPod classic was the fifth best selling media player in the U.S. for all of 2010, suggesting that the hard drive-based device won't be exiting the company's product lineup in the near future.
The NPD Group this week revealed to AppleInsider overall portable media player sales rankings in the U.S. in 2010. The black iPod classic came in fifth place among all media player sales in the U.S., showing that Apple's only remaining hard-drive-based media player still has some life in it. The silver iPod classic was not among the top 10 devices.
It should be noted that sales tracked by the market research group are based on individual models and colors, so a product lineup with multiple colors — like the iPod nano or iPod shuffle — can be come diluted due to the number of options. Regardless, the performance of the iPod classic among all media player sales is impressive for a product some have thought to be near discontinuation for years.
NPD's retail tracking includes sales in retail stores, as well as via online outlets — including Apple's own Web store.
The top-selling media player in the U.S. in 2010, as tracked by NPD, was the third-generation 8GB iPod touch. In just a few short months on the market at the end of 2010, the fourth-generation 8GB iPod touch managed to secure second place among all media player sales.
Apple's higher-capacity iPod touch models came in third and fourth place, with the fourth-generation 32GB model taking third, and third-generation 32GB product in fourth.
Just behind those products — and ahead of all colors of the iPod nano and iPod shuffle — was the black iPod classic. The strong performance of Apple's legacy iPod in 2010 could quiet some rumors that Apple plans to cancel the product, even as availability at some stores has dwindled.
Instead, new 1.8-inch hard drives from Toshiba, with capacities up to 220GB, could extend the life of the product line, if Apple were to use them in an updated model. Toshiba released the hard drives, which weigh just 48 grams and measure 5mm by 54mm by 71mm, in late January.
First launched in 2001, the iPod initially relied on HDDs for storage capacity, as flash memory had not yet become viable or cost effective for gigabytes of storage. When the first flash-based iPod shuffle debuted in January of 2005, it only carried 512MB or 1GB of storage. But over time, flash products have come to dominate Apple's iPod lineup, and have extended to other products like the iPhone, iPad and new MacBook Air.
Just behind the black iPod classic in 2010 sales rankings was the 2GB silver fourth-generation iPod shuffle. Three 8GB iPod nano models followed, with the black fifth-generation model taking seventh, and gray and blue sixth-generation models coming in eighth and ninth, respectively.
Unsurprisingly, Apple was the dominant media player maker in 2010, representing the top nine devices in the U.S. The only non-Apple product on the list came in at No. 10: the 4GB Sandisk Sansa Clip+.