Arrival of Apple's iPhone on Verizon predicted to disrupt 1M Android sales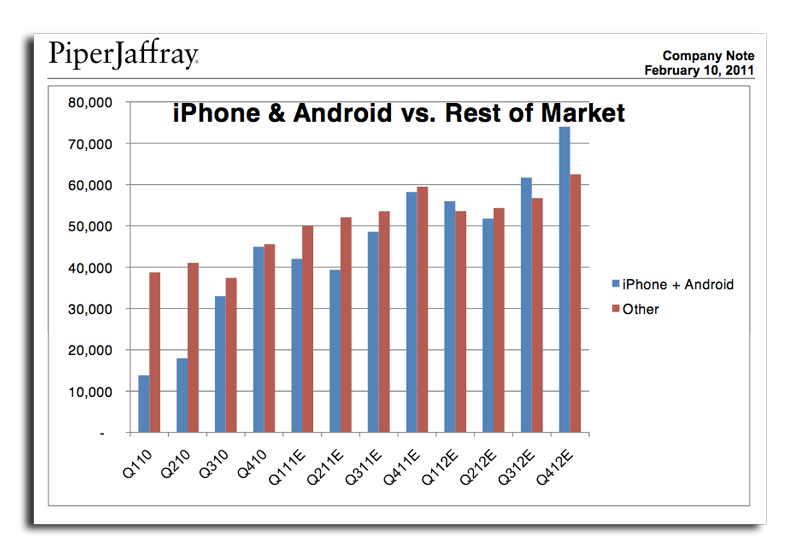 AppleInsider is supported by its audience and may earn commission as an Amazon Associate and affiliate partner on qualifying purchases. These affiliate partnerships do not influence our editorial content.
With Verizon the strongest carrier for the Google Android mobile operating system, the arrival of Apple's iPhone on the largest network in America is expected to displace around a million Android handset sales in the first quarter of availability.
Analyst Gene Munster with Piper Jaffray said on Thursday that Verizon typically would have sold between 4 million and 5 million Android handsets this quarter if Apple's iPhone were not available. But he sees the arrival of the iPhone taking a chunk out of Android sales on Verizon, disrupting them by about a million.
The analyst sees Apple selling about 1.5 million iPhones on Verizon in the carrier's first fiscal quarter of 2011. The iPhone, which formally launched today, will only be available for a portion of the quarter.
On AT&T, where the iPhone was exclusive in the U.S. until today, Munster sees Apple selling 2.9 million units in the March 2011 quarter, a number which assumes Verizon sales will cannibalize 740,000 sales from its rival. AT&T also has the benefit of a full quarter of iPhone sales.
The arrival of the iPhone on Verizon is a key strategic move, Munster believes, as he estimates that the carrier accounts for roughly 20 percent of total Android users worldwide.
The sales forecast from Piper Jaffray would have Android continue to outsell the iPhone on Verizon in the carrier's first quarter. Munster said that he believes Android is garnering higher unit share than the iPhone due to a wider selection of phones, greater supply, and lower pricing.
But in his eyes, unit sales aren't as important as profitability, a measurement where Apple holds a considerable lead. The iPhone's share of smartphone profits was over 50 percent of the market in 2010, while Android was responsible for less than 25 percent, split among several device manufacturers.
Looking long term, the analyst sees Android and the iPhone controlling over half of the smartphone market by the fourth quarter of calendar 2012. And by 2015, he has forecast Android and Apple to control over 65 percent of the total smartphone market.