Hints of Apple TV gaming platform found in iOS 4.3 beta

References to gaming and a possible controller for the Apple TV have been discovered in the iOS 4.3 beta code, suggesting that Apple could be planning to take on traditional gaming consoles over control of the TV.
Prior to Apple's announcement of the new $99 streaming Apple TV, rumors swirled that the device, which runs a variant of iOS, could gain support for third-party iOS apps in the next revision. Those rumors failed to materialize, but a new report claims to have found evidence of future gaming features for the Apple TV in an iOS 4.3 beta.
Engadget reports that a tipster has notified them of references to online gaming support in a recent iOS 4.3 beta. "Several references have been found pertaining to "ATVGames" and "ATVThunder" that point to a controller of some sort, leaderboards (think Game Center), a way to schedule games (multiplayer?), and a store front (think App Store, iTunes)," the report noted.
Two strings, "com.apple.appletv.play.live.thunder" and ".play.archive.thunder," may point to the possibility of streaming games to the Apple TV or archiving them for offline play. The report's source speculated that "the OpenGL is mature and thoroughly implemented enough that streaming low bandwidth data and computing locally could happen," though the report was quick to disclaim that there's nothing in the code to suggest that will be the case.
Two more codenames, Sedona and Flagstaff, named after cities in Arizona, were also discovered in the beta. With references to director, episode and season, Sedona may be a new "video merchandising and streaming" feature, according to the report. The Flagstaff code references "Account Types and Merchants," but otherwise remains a mystery.
The addition of gaming to the Apple TV could create further inroads for Apple into consumers' living rooms and provide fierce competition to incumbents like Microsoft, Sony and Nintendo. After Apple unveiled the revamped Apple TV in September of last year, Wall Street analysts viewed it as a small "step in the right direction."
Rumors of an Apple HDTV have persisted for years. Analyst Gene Munster with Piper Jaffray has long believed that Apple will release an Apple-branded HDTV as early as by the end of calendar year 2012. Munster recently pointed to Apple's $3.9 billion pre-pay investment as possible evidence of an upcoming Apple HDTV set.
In September of last year, analyst Maynard Um of UBS analyzed the state of the "Global Digital Living Room" and pegged Apple as the front runner. The report did, however, note that TV is the one platform in Apple's ecosystem that needs substantial improvement.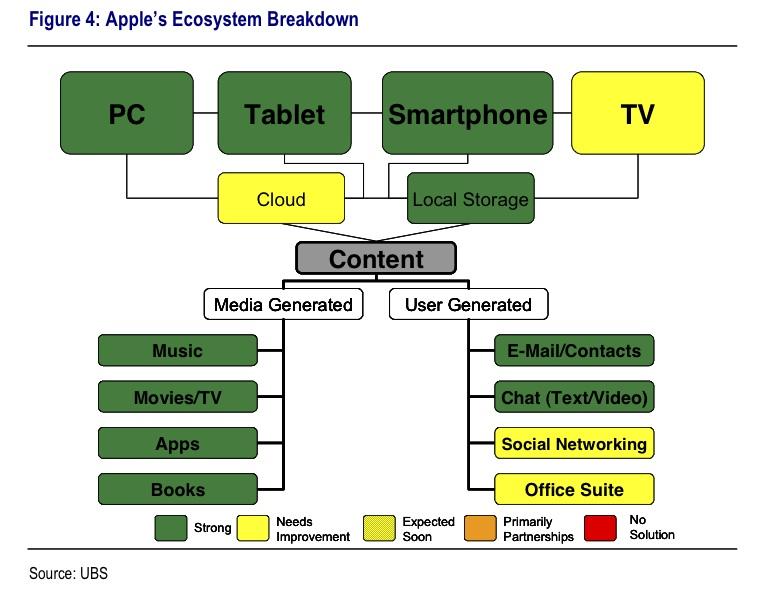 The popularity of games on iOS has contributed to the runaway success of the iPhone, iPad and iPod touch, while also putting handheld gaming device makers like Sony and Nintendo on the defensive. Apple CEO Steve Jobs boasted in September last year that the iPod touch had become the "world's most popular game player."
Nintendo of America president Reggie Fils-Aime told reporters last year that Apple is a bigger threat than Xbox maker and rival Microsoft. Sony and Google will team up against Apple in a new PlayStation Suite for Android platform that will bring PlayStation games to Google's mobile OS.
According to a December 2010 report by Interpret, Apple's iOS devices are displacing standalone gaming devices, as the proportion of games played on the Nintendo DS and Sony PSP have declined 13 percent over the last year.