Microsoft debuts on Mac App Store, Warner movie apps broaden global availability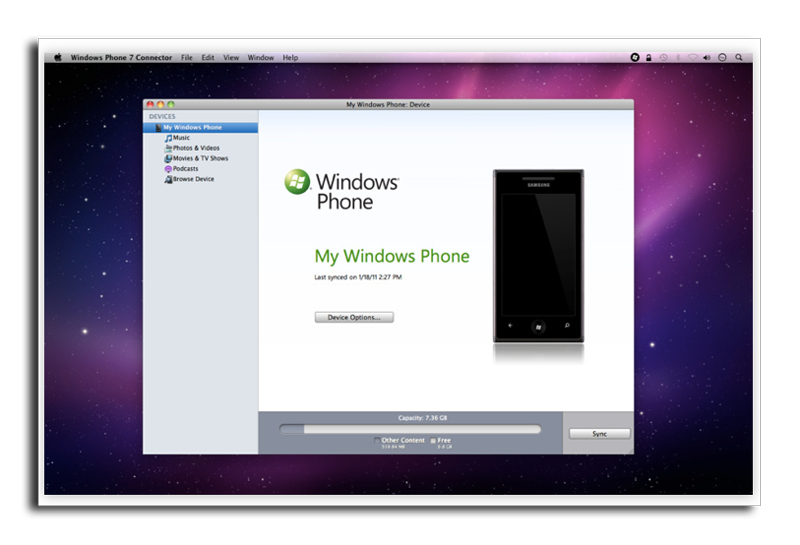 Apple's rival Microsoft has launched its first application on the Mac App Store for syncing Windows Phone 7 devices, while movie studio Warner Bros. has begun releasing software on the iOS App Store that includes hit movie titles, allowing the films to be released in countries where the iTunes store is not available.
Windows Phone 7 Connector now on Mac App Store
Microsoft on Wednesday launched the Windows Phone 7 Connector application on the Mac App Store. It is the first application from the Redmond, Wash., software giant available on Apple's new Mac OS X digital download destination.
In addition to allowing users of Windows Phone 7 devices to sync to their Mac, the application also connects to the Zune HD media player. Users can sync music, movies, TV shows and podcasts from their existing iTunes library to their devices, as well as photos and videos from iPhoto.
The free software lets users retrieve videos and photos from their portable device and automatically add them to an existing iPhoto library. It can also be used to browse and preview media items, and download and install operating system updates.
Windows Phone 7 Connector requires a Windows Phone 7 device from any carrier or a Zune HD, as well as a computer running Mac OS X 10.6.6 or higher. It is a 2.6MB download available in English, French, German, Italian and Spanish.
Warner Bros. movies come to iOS App Store
Warner Bros. on Wednesday announced the launch of "App Editions" for popular movies "Inception" and "The Dark Knight," both helmed by director Christopher Nolan. The movies are available on the App Store for the iPhone, iPod touch and iPad, and provide "a fully-loaded, connected viewing experience."
Downloading a free "App Edition" of the movie gives users the first five minutes of the feature film and a portion of bonus content that can include games, trivia, soundtracks and soundboards. Customers can unlock the movie via an in-app purchase, which enables both downloading and unlimited streaming of the film and its bonus content.
The move allows Warner Bros. to sell "Inception" and "The Dark Knight" in over 30 territories, including some which did not have access to films through iTunes. Those countries include China, Brazil and the Netherlands.
"Warner Bros. is bringing more than 100 million Apple device owners a highly innovative new way to experience their favorite films," said Thomas Gewecke, President of Warner Bros. Digital Distribution. "For many, watching a movie is a social activity and App Editions are the first mobile product to deliver this capability on a global scale.
"They offer a fully connected experience, allowing viewers to engage with others around the world in real-time through Facebook and Twitter. In 2011, Warner Bros. will release a full slate of App Editions including new release and catalog films."