Next-gen MacBook Pro photos reveal Apple's high-speed 'Thunderbolt' port [u]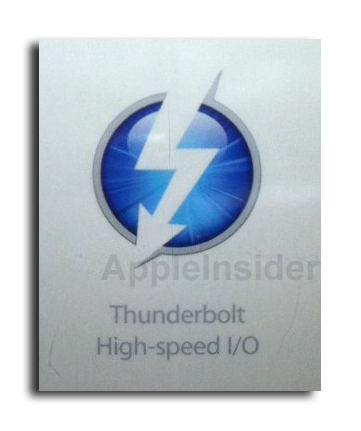 Apple's implementation of Intel's Light Peak technology could be dubbed "Thunderbolt," according to new pictures that claim to show the new 13-inch MacBook Pro hardware and box [updated with photo of English box].
Alleged hardware specifications provided to AppleInsider show that in addition to a supposed Thunderbolt port, the new 13-inch MacBook Pro will also sport an input for an SDXC card. The specs also suggest that the 2.3GHz Core i5 processor will not be accompanied by a discrete graphics card.
The provided specifications include:
2.3GHz Core i5 Processor
4 GB DDR3 @ 1333 MHz
320 GB HDD
13.3-inch display @ 1280x800 pixels
Intel HD Graphics 3000 with 384 MB shared memory
FaceTime high-definition camera
Thunderbolt connector supporting High-Speed I/O and MiniDisplay-Port devices
SDXC, Firewire 800, and two USB 2.0 slots
Backlit keyboard
2.04kg weight
The same supposed Thunderbolt logo was provided to fscklog.com, which also obtained a picture claimed to show the specifications of the new 13-inch MacBook Pro. Those details align with the information shared with AppleInsider.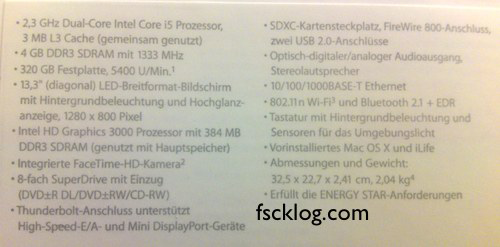 Update: Providing further confirmation that the specifications and Thunderbolt naming are legitimate, MacRumors has also obtained a picture of the supposed 13-inch MacBook Pro box. The new picture is in English, and shows the same details as reported above.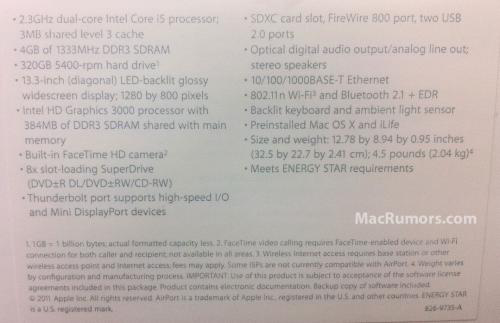 Finally, a picture claiming to show the ports on the new 13-inch MacBook Pro, including Thunderbolt, has also surfaced. It shows the new high-speed port in the exact same shape as an existing Mini DisplayPort input, which could allow the picture to be easily doctored.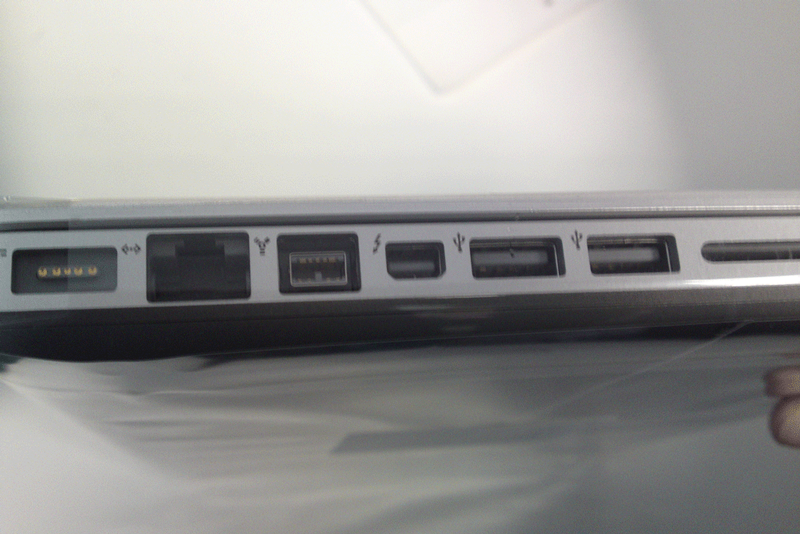 Apple is expected to introduce its new line of MacBook Pros on Thursday. In addition to Intel's latest generation Sandy Bridge processors, the systems are rumored to have support for Intel's high-speed Light Peak data connections.
In fact, Intel is set to hold a press briefing on Light Peak the same day. Sources also told AppleInsider earlier this month that Apple's new MacBook Pros would feature new enhancements outside of the jump to Intel's Sandy Bridge CPUs.
If accurate, the alleged pictures of Apple's 13-inch MacBook Pro and use of the term "Thunderbolt" suggest that the company could include a unique implementation of Light Peak with its own branding that would be unique to Apple products. It would also lend support to rumors that the forthcoming iPad 2 would feature a built-in Mini DisplayPort, perhaps for more than just a video out.