Apple to unveil new MacBook Pros 'shortly after' Intel Thunderbolt event Thursday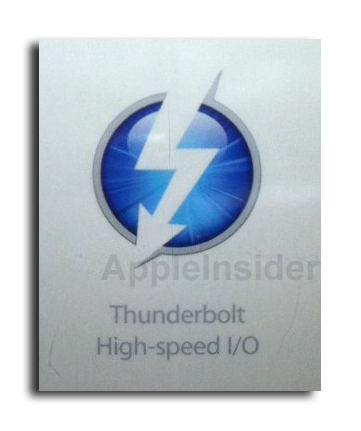 AppleInsider is supported by its audience and may earn commission as an Amazon Associate and affiliate partner on qualifying purchases. These affiliate partnerships do not influence our editorial content.
A new report claims that Apple will unveil a refresh to its MacBook Pro lineup 'shortly after' an Intel press event to formally launch the chipmaker's new Light Peak technology, which will reportedly be marketed as Thunderbolt, at 10 a.m. Pacific on Thursday.
According to a Cnet source, the MacBook Pro announcement could come from Apple "shortly after Intel's announcement." Intel issued invitations earlier this week for a press briefing in San Francisco "to discuss a new technology that is about to appear on the market." If true, the timing would break from Apple's usual practice of releasing products at 8:30 a.m. Eastern.
That technology is widely believed to be the company's Light Peak optical technology, which sources say will be officially branded as Thunderbolt and is slated for release this spring.
After AppleInsider published details of a new Thunderbolt connector that includes both High-Speed I/O and Mini DisplayPort functionality, more details emerged confirming that Apple plans to implement Intel's technology under the Thunderbolt branding in the upcoming update to the company's MacBook Pro notebook lineup. According to Cnet, the 15- and 17-inch MacBook Pros will sport discrete graphics chips from AMD to augment Intel's integrated graphics.
MacRumors reports that leaked MacBook Pro packaging reveals that the Thunderbolt trademark actually belongs to Intel, suggesting that the technology and branding could see widespread use beyond Apple's product line.
According to The Wall Street Journal, Intel may have adopted Apple's Mini DisplayPort standard after receiving objections to the use of USB connector from the USB Implementers Forum. "USB connectors are not general purpose connectors and are not designed to be used in support of other technology applications or standards or as combo connectors," the group said in a statement last year.
Apple developed the Mini DisplayPort standard several years ago. The connector is backwardly compatible with VGA, DVI, and dual-link DVI displays and capable of driving resolutions up to 2560x1600.
In order to drive adoption of the technology, Apple offered no-fee licenses of the technology before eventually agreeing to license the interface to the Video Electronics Standards Association. VESA officially adopted Mini DisplayPort as part of the DisplayPort standard in 2009.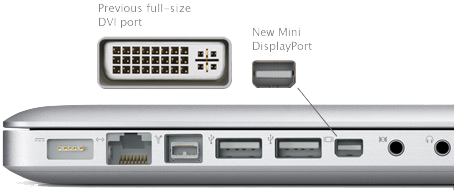 Recent rumors that Apple is planning to add a Mini DisplayPort jack to the next iPad could mean that Apple's next-generation touchscreen tablet may make use of the new Thunderbolt technology. The Cupertino, Calif., company is expected to unveil an update to the iPad on March 2 at a media event in San Francisco.
A series of patents from Apple reveal that the company is investigating an all-in-one power, optical data and display connector. One invention utilizes a MagSafe connection to route power, networking and DVI signals to a combination power brick and port hub. Last week, AppleInsider discovered a patent for a magnetic connection that combines power and data.