Apple's 15- and 17-inch MacBook Pros to sport quad-core i7 CPU, AMD graphics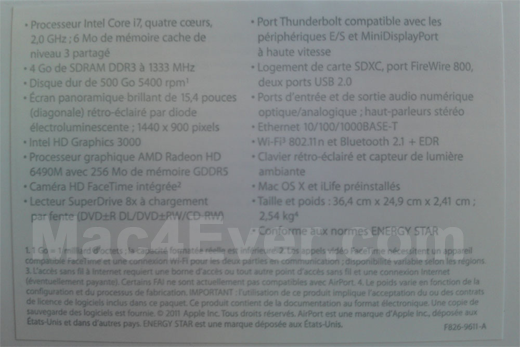 AppleInsider is supported by its audience and may earn commission as an Amazon Associate and affiliate partner on qualifying purchases. These affiliate partnerships do not influence our editorial content.
New leaked photos reveal the details of Apple's MacBook Pro refresh, with updated notebooks featuring AMD graphics, and high-end 15- and 17-inch models packing quad-core Intel Core i7 processors [updated].
French Apple site Mac4Ever (via Google Translate) posted a photo of what appears to be a 15-inch MacBook Pro box. The site also claimed to have obtained several pictures of the 13-inch earlier on Wednesday.
The site was unable to verify exactly which model the box was for, but asserts that it is "without doubt the entry or mid-range," because the 3D card has just 256MB of RAM.
According to the photo, Apple's next-generation 15-inch MacBook Pro has:
An Intel Core 2.0 GHz i7 quad-core processor with a 6MB cache
4GB of RAM at 1333 MHz
500GB hard drive
15.4-inch screen with 1440x900 resolution
Intel HD Graphics 3000
AMD Radeon HD 6490M GPU with 256MB of memory
FaceTime HD camera
8x SuperDrive
Thunderbolt and Mini DisplayPort
SDXC slot, FireWire 800 port and two USB 2.0 ports
Audio and Ethernet ports
Wi-Fi and Bluetooth
2.54 kg in weight
Update: Mac-TV.de also obtained details and photos of the boxes of the 15-inch and 17-inch models. Specifications of the 15-inch are the same as listed above.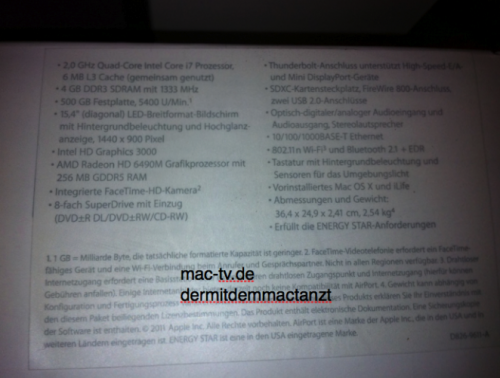 Specifications for the 17-inch model are said to be the same as well, but with a 2.2GHz Quad Core i7 processor and a screen resolution of 1,920-by-1,200 pixels.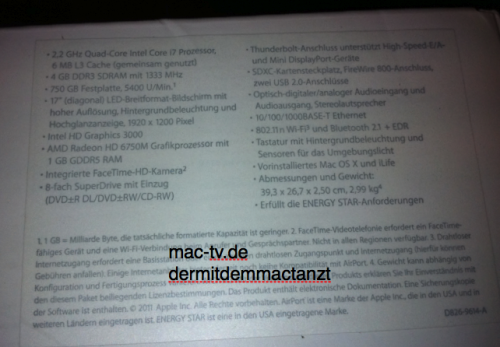 And finally, Mr. X, a known and proven tipster, provided part numbers for the five new MacBook Pro models set to arrive on Thursday:
MC700LL/A - MBP 13.3/2.3/2X2GB/320/SD-USA
MC724LL/A - MBP 13.3/2.7/2X2GB/500/SD-USA
MC721LL/A - MBP 15.4/2.0/2X2GB/500/SD/GLSY-USA
MC723LL/A -MBP 15.4/2.2/2X2GB/750/SD/GLSY-USA
MC725LL/A - MBP 17/2.2/2X2GB/750/SD/GLSY-USA
Mac4Ever has a mixed track record with predicting Apple products. In July of last year, the site incorrectly claimed that Apple would release a 64-bit version of iLife '11 with a 'mystery application.' In September, the site correctly predicted that Apple was working on a FaceTime for Mac application, though a rumored FaceTime for Windows has yet to materialize.
According to one report, Apple will wait until after Intel's press event unveiling the Light Peak/Thunderbolt technology to take the wraps of the new MacBook Pros, though it's also possible that the Mac maker could launch the notebooks online early Thursday morning as usual.