Apple exploring capacitive touch buttons to control a closed MacBook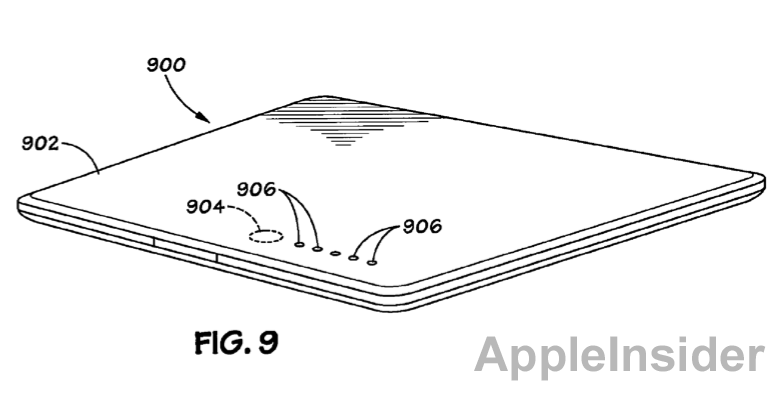 Apple could add the ability to control applications like iTunes while a notebook is closed via capacitive touch buttons added to the lid of future MacBooks.
The U.S. Patent and Trademark Office this week disclosed a patent application filed by Apple that shows touch-sensitive, disappearing buttons on the exterior of a MacBook. Discovered by AppleInsider, the application is entitled "Methods and Apparatus for Capacitive Sensing."
In the application, Apple notes that conventional capacitive sensing devices require the use of a non-conductive material, like the glass found on an iPhone or iPad. Apple's implementation would allow capacitive touch buttons on a metal surface, like the exterior of a MacBook Pro.
The external "buttons" could be used to indicate certain status information with the device, such as battery level or Wi-Fi connection strength. The buttons could also disappear by using invisible holes and backlighting to make them selectively visible, much like the indicator light for use of a FaceTime camera on a MacBook Pro.
But in addition to displays, the virtual buttons would also have either a proximity sensor or a capacitive touch sensor, or both, allowing users to control elements of the computer even while its lid is closed. Specifically mentioned in the application are traditional buttons for media playback, like play, pause, and volume increase and decrease.
Apple also notes that the buttons could be used for other functions, like to start up or shut down the computer.
"For example, sensing a touch, such as with a virtual 'button' when a laptop computer is in the closed-lid sleep mode, can wake up an external monitor..., sync an iPod or iPhone... with the laptop computer, or install software to the laptop computer while the lid is closed," the application reads.
Apple could also make the invisible touch buttons contextual, having different functions depending on the operating state of the device. The buttons could also be implemented as a trackpad surface, with a large number of touch-sensing locations.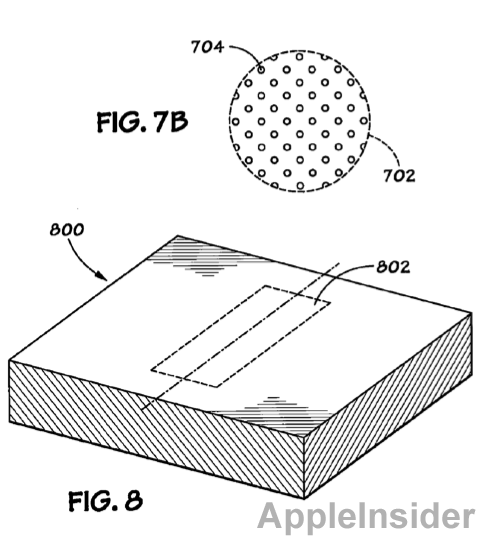 Similarly, the external controls could be a "slider," allowing users to drag their finger to accomplish a task like adjusting volume or skipping through media. This could allow more precise control than individual button taps.
The application, made public this week, was originally filed in August of 2010. The proposed invention is credited to Aleksandar Pance, Omar S. Leung and David Thomas Amm.