Benchmarks of Apple's new MacBook Pros find speeds 13%-53% faster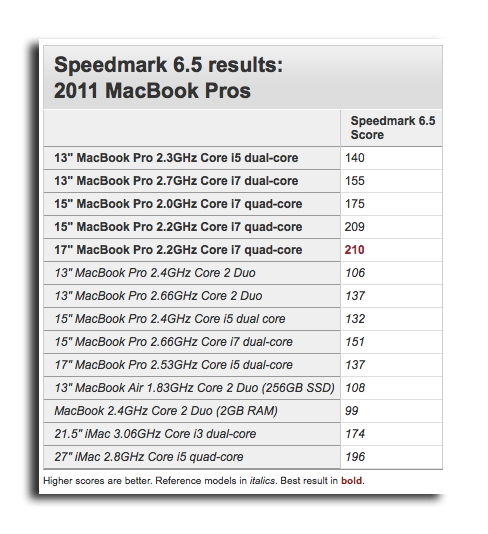 AppleInsider may earn an affiliate commission on purchases made through links on our site.
The addition of Intel's latest-generation Sandy Bridge processors has boosted the performance of Apple's new line of MacBook Pros by between 13 percent and 53 percent faster than their predecessors.
Speedmark 6.5 tests administered by Macworld found that the entry-level 13-inch MacBook Pro with a 2.3GHz Core i5 dual-core processor earned a score of 140, versus its predecessor's score of 106. That means the new 13-inch MacBook Pro is 35 percent faster than the model released last April.
While the new system was faster at "just about everything," it did fall short in playing the game Call of Duty 4, averaging 26 frames per second versus 33 frames in last year's model. This is due to the use of Intel's integrated HD Graphics 3000 in the Sandy Bridge processor, while last year's model included a discrete Nvidia graphics card.
The 13-inch 2.7GHz Core i7 MacBook Pro was 13 percent faster than last year's offering with a score of 155. It sports a 2.7GHz Core i7 processor, but again relies on Intel's discrete graphics.
The 15-inch MacBook Pro with 2.0GHz quad-core Core i7 MacBook Pro came in 33 percent faster than last year's 15-inch model with a 2.4GHz Core i5 dual-core system. And the 15-inch 2.2GHz Core i7 quad-core came in 38 percent faster than last year's model.
The new 17-inch MacBook Pro has similar specifications to the high-end 15-inch model, and was 53 percent faster than last year's 17-inch model. Both the new 15- and 17-inch MacBook Pros feature discrete Radeon HD 6750M graphics with 1GB of dedicated video memory that makes them display 31 percent more frames per second in Call of Duty 4.
Macworld also had the new MacBook Pros square off against Apple's iMac all-in-one desktop line, and found that the 2.0GHz 15-inch MacBook Pro beat out the entry-level 3.06GHz dual core Core i3 iMac by one speedmark point. They also found the 15- and 17-inch 2.2GHz MacBook Pros to be about 7 percent faster than the high-end standard configuration iMac with a 2.7GHz quad-core Core i5 processor.
For more, see AppleInsider's coverage of Apple's new line of MacBook Pros: