Apple's iOS 4.3 has 2X faster JavaScript, AirPlay enhancements, iTunes to iOS sharing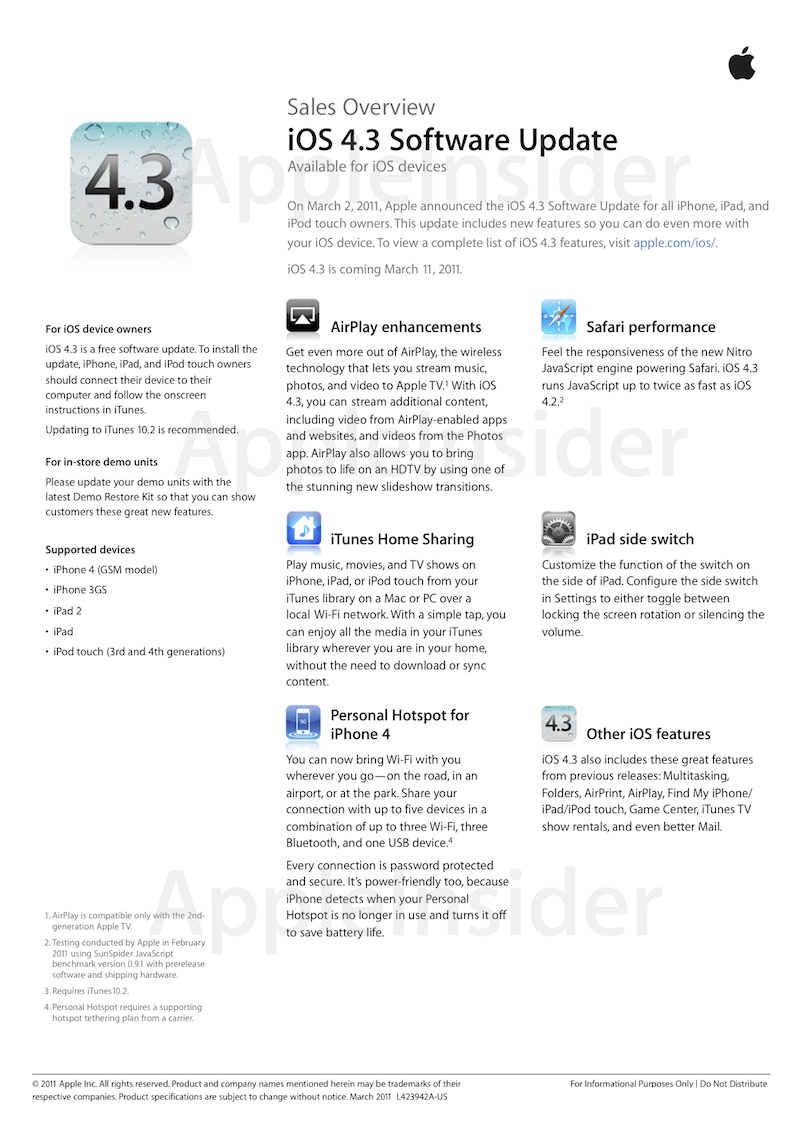 Apple on Wednesday showed off new features of iOS 4.3, including two times faster JavaScript performance in Safari, and the ability to wirelessly share and stream content from an iTunes library on a Mac or PC to an iOS device.
"With more than 160 million iOS devices worldwide, including over 100 million iPhones, the growth of the iOS platform has been unprecedented," said Steve Jobs, Apple's CEO. "iOS 4.3 adds even more features to the world's most advanced mobile operating system, across three blockbuster devices — iPad, iPhone and iPod touch — providing an ecosystem that offers customers an incredibly rich experience and developers unlimited opportunities."
iOS 4.3 will have the same Nitro JavaScript engine from Mac OS X, bringing performance twice as fast to the Mobile Safari browser on the iPad, iPhone and iPod touch.
Improved iTunes home sharing will also allow users to access all of their content directly over Wi-Fi. And enhancements to AirPlay will allow applications and websites to stream over Wi-Fi to the Apple TV set top box. Sharing of photos over AirPlay can also use the built-in slide show options of iOS.
Apple also showed off a new version of Photo Booth for iPad and iPhone, which allows users to take photos and edit them. A demonstration showed that the software capable of accessing 9 live video streams at once with real-time effects.
"When the mood strikes, turn the camera on yourself, make some faces, and start shooting snapshot-style," Apple's promotional materials read. "Choose from artsy, wacky, and weird effects. Twist up your face, see yourself doubled, or look like you stepped into a comic book. Photo Booth is great for parties or just for kicks. And the fun keeps coming as you keep snapping."
Also shown off was FaceTime functionality with iOS 4.3. The addition of FaceTime will allow users to video chat with others on Apple's range of devices, including Macs, the iPhone 4, and the fourth-generation iPod touch.
"FaceTime on iPad 2 lets you drop in on your favorite people and see how they're doing. And what they're doing. And who they're with," Apple said. "You could be anywhere, they could be anywhere. With a tap, your iPad 2 calls someone else's iPad 2, iPhone 4, new iPod touch, or Mac over Wi-Fi."