Android tops RIM in US smartphone market share, Apple's iPhone third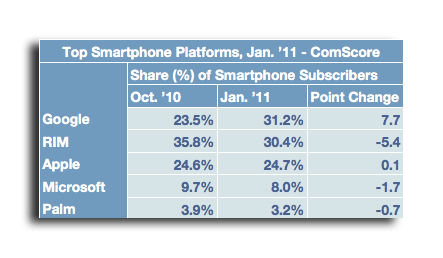 Google's Android surpassed Research in Motion's BlackBerry to become the largest mobile platform at the start of 2011, while Apple's iOS and iPhone took third before the Verizon iPhone 4 was released.
New market data released by comScore on Monday shows that Google Android was the largest mobile platform in the U.S. for the three-month period that concluded with January 2011. Android's growth of 7.7 percent over the previous quarter pushed the Google mobile operating system to 31.2 percent share, past RIM's 30.4 percent share.
RIM slid 5.4 percent while Apple saw its share of the U.S. market go up 0.1 percent, bringing it to 24.7 percent total domestic share. The market share statistics represent active mobile device subscribers, but the numbers apply to the period before Apple launched a CDMA variant of the iPhone 4 on Verizon in early February.
Apple and Google were the only mobile platforms to see quarter-over-quarter gains, as Microsoft's platform share of the U.S. market dipped 1.7 percent to 8 percent. Palm saw its presence slide 0.7 percent to 3.2 percent total.
In terms of hardware, the survey of 30,000 mobile subscribers found that Samsung was the top overall handset maker with a 24.9 percent share, representing 0.7 percent growth from the October 2010 quarter. Apple came in fifth among device makers, with its 7 percent share up 0.6 percent from the previous three-month frame.
In the January period, 234 million Americans ages 13 and older used mobile devices, and 65.8 million people in the U.S. owned smartphones. Smartphone use was up 8 percent from the preceding three-month period, comScore found.
Most mobile subscribers — 68.1 percent — said they used text messaging on their mobile device. Just 37 percent of mobile subscribers used a browser, 35.3 percent downloaded applications to their device, and 23.7 percent played games.
ComScore first reported in January that Google Android had surpassed the iPhone in total active U.S. subscribers for the first time. At the time, Google was still behind the market leader, RIM.