Impressive lines suggest first day iPad 2 sales could hit 500k, analyst says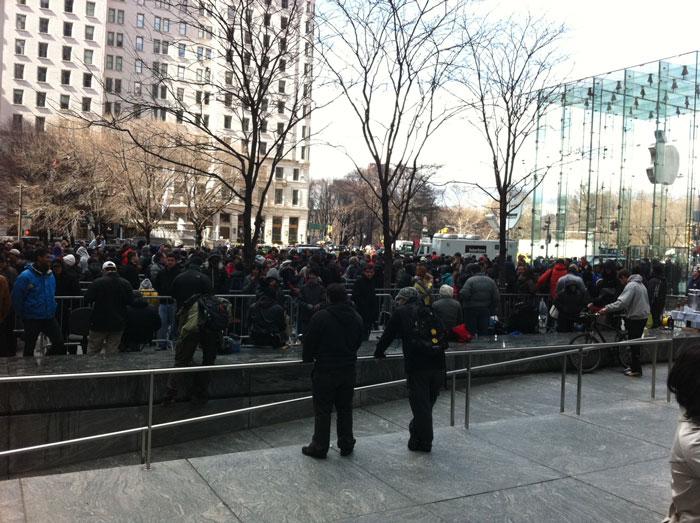 Piper Jaffray analyst Gene Munster increased his first day sales estimate for the iPad 2 to an upper range of 500,000 units after initial demand surpassed his expectations, with some Apple retail stores drawing 104 percent longer lines than last year's launch.
In a research note earlier this week, Munster had suggested that launch day lines for the iPad 2 would be shorter than those for last year's launch of the original iPad, citing much greater availability of the device at more than 10,000 stores of retail partners.
However, some lines for the iPad 2 reached more than triple last year's numbers, based on Munster's checks with several Apple retail stores around the U.S. For example, the Mall of America Apple Store in Minneapolis saw 334 people in line, compared to 105 customers last year.
At Apple's flagship 5th Avenue store in New York, Piper Jaffray researchers counted 1,109 people in line on Friday, compared to 730 people last year.
However, Munster notes that his checks represent only a small sample of Apple's distribution points and do not take into account variables such as the fact that the iPad 2 launched on a Friday evening, rather than last year's Saturday morning launch.
Meanwhile, AppleInsider reported on Friday that the line at a flagship Apple Store in downtown San Francisco had reached over 140 people before noon.
Munster believes that, given the "dramatic increase in distribution points," Apple "felt it was well stocked" for the launch. In spite of the iPad maker's preparations, overwhelming demand has quickly outstripped initial supply.
According to Munster, some stores had "spotty supply" within just one hour after launch. Tight supply is expected to continue throughout the weekend. Apple currently lists ship times of "2-3 weeks" for all models of the iPad 2 ordered through the company's website.
Given the longer lines, wider availability and backlog of orders online, Munster expects Apple to reach 1 million sales faster than the 28 days it took for last year's release of the original iPad. According to the analyst, the first day of availability for the device could see as many as 400,000-500,000 units sold, compared to 300,000 units (including pre-orders) on the iPad's launch day last year.
Analysts had been steadily raising their estimates in the build-up to the iPad 2 launch. A report late Thursday suggested Apple could sell as many as 600,000 iPad 2 units this weekend. On Friday, Brian White of Ticonderoga Securities said he "would not be surprised" if weekend sales of the device topped 1 million.