Apple releases free iAd Gallery on App Store to show off interactive ads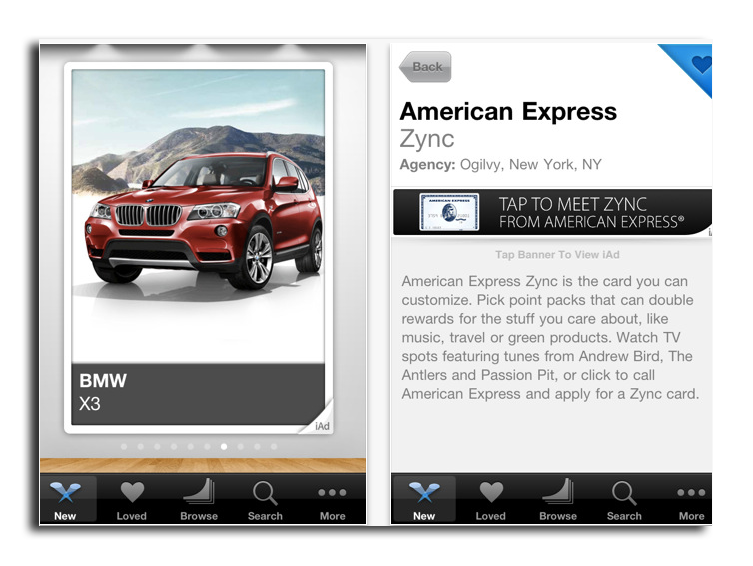 AppleInsider is supported by its audience and may earn commission as an Amazon Associate and affiliate partner on qualifying purchases. These affiliate partnerships do not influence our editorial content.
Apple on Tuesday released a new iPhone application called iAd Gallery, serving as a showcase for interactive advertisements available through the Apple-owned iAd network.
Version 1.0 of iAd Gallery is a free download available through the App Store. The 1.5MB software is compatible with the iPhone, iPod touch and iPad, and requires iOS 4.2.6 or later.
"The iAd Gallery is a celebration of advertising, featuring iAd campaigns from some of the world's best brands and their advertising agencies," Apple's official description reads. "The iAd Gallery gives you easy access to a selection of the fun and informative ads that have run in some of your favorite apps. Use the Browse feature to discover ads you haven't seen, or to find those you want to see again. Even lets you tag your favorites to a Loved section that's all your own."
Features of the new software, which is rated for ages 12 and up, include:
Updated regularly to include a selection of the latest ads running on the iAd Network
Explore by spinning the wheel of iAd banners, or search by advertiser, category or ad feature
Learn about the featured ads, including the advertising agencies behind them
Easily access your favorite ads anytime by placing them in your Loved section
Tap into the More section to find additional details about the iAd Network
In recent months, Apple has become more aggressive in pushing its iAd mobile advertising service, including a move in February which saw the company cut its minimum advertising buy in half, to $500,000. Previously, advertisers had to buy at least $1 million to be a part of the network.
iAds debuted on the iPhone in the U.S. last July, and got off to a strong start as interest in the new advertisements was high. iAds provide richly interactive experiences inside developers' apps, providing them a 60 percent cut of the advertising revenue.
Apple's interactive advertisements are intended to be more compelling to users, because they don't have to leave an application and launch the Safari Web browser to view an advertiser's product. iAds can be identified by a logo included in the corner of the ad.
But while iAds got off to a strong start, the platform was described as "hurting" this February, with rumors that Apple was struggling to fill advertising slots and renew contracts. That report cited developers who indicated that at the start of 2011, the fill rate — or what percentage of an ad inventory is actually filled with an ad — dropped from 18 percent to 6 percent.