Apple expected to report sales of 7M iPads, 17M iPhones for Q2 2011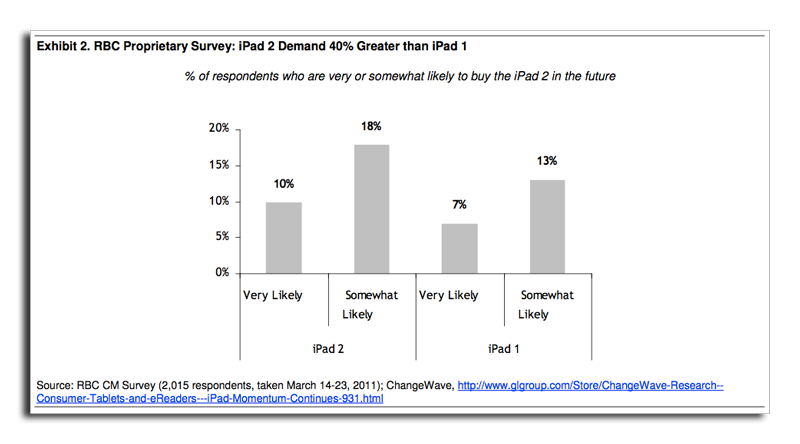 Apple is once again predicted to exceed expectations in its upcoming quarterly earnings call, with one analyst forecasting sales of 7 million iPads and 17 million iPhones in the second quarter of fiscal 2011.
Mike Abramsky with RBC Capital Markets sees Apple easily beating Wall Street forecasts for iPad 2 sales, with the second-generation device reaching between 2 million and 3 million units moved in the quarter. In all, he sees 7 million iPads being sold in the second quarter of fiscal 2011, a three-month span where the iPad 2 was on sale for less than a month.
RBC Capital Markets conducted a survey of 2,000 respondents between March 14 and 23, which found that 28 percent of those polled plan on buying an iPad 2. That's 40 percent higher than those who were interested in buying the first-generation iPad from a survey conducted last May.
Accordingly, Abramsky has adjusted his iPad 2 sales estimates for 2011 to 31 million, up from his previous prediction of 25 million. Those numbers would help Apple's revenue grow 57 percent year over year, to $102 billion.
Abramsky also sees Apple selling 17 million iPhones, which would be yet another record for Apple. In the previous holiday quarter, Apple posted a personal best with 16.2 million iPhones sold.
The second quarter of fiscal 2011 saw the launch of the CDMA Verizon iPhone 4, which Abramsky believes was a strong seller in the three-month span. He has estimated that Apple sold about 2 million of the Verizon iPhone in the quarter.
The analyst has also called for Apple to report sales of 3.6 million Macs, bolstered by the popular, redesigned thin-and-light MacBook Air. He believes Apple sold about 700,000 of the MacBook Air during the last quarter.
Apple is set to reveal its quarterly earnings for the second fiscal quarter of 2011 on a call next Wednesday, April 20. The call will begin after the market closes, at 5 p.m. Eastern, 2 p.m. Pacific.