Customers frustrated with lack of stock for Best Buy iPad 2 promotion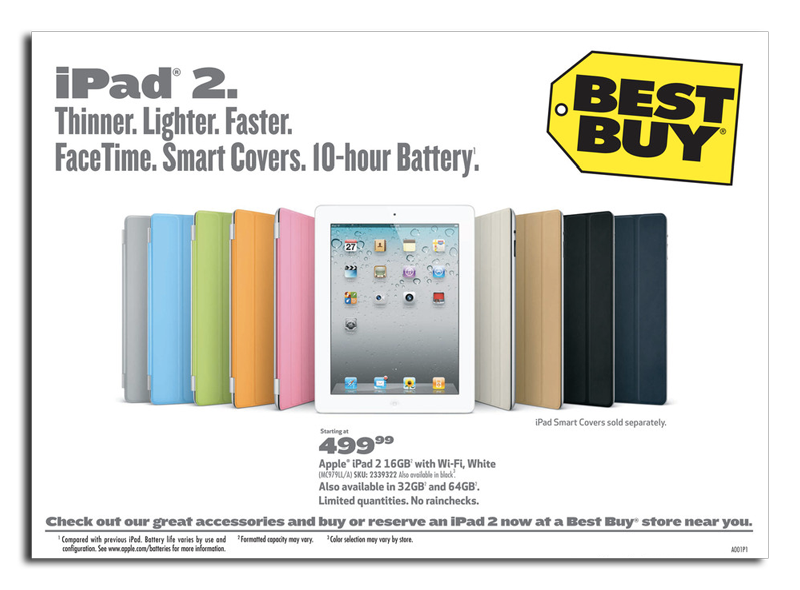 Though Best Buy advertised that its stores would have iPad 2 stock available for sale on Sunday, numerous customers came away empty handed as availability of Apple's touchscreen tablet remains limited.
A number of readers contacted AppleInsider to express their frustration with Sunday's sale. The big-box retailer made a marketing push with a Sunday flier advertising availability of the iPad 2, though the advertisement noted that stores would have "limited quantities" and offer "no rainchecks."
The company had revealed weeks ago that it was withholding some iPad 2 stock from sale for an upcoming promotion. But at least a handful of stores had no inventory available on Sunday, a fact that was upsetting to some customers.
"Moreover, they didn't even tell us while we were in line that they hadn't gotten a shipment," reader Joel from San Francisco, Calif., said "30 of us waited in line until 10am (I got in line at 9:40am) only to be told that they were out of stock."
He and others were offered the ability to sign up for Best Buy's waiting list, as the company has reenabled its reserve system for this week's promotion. Customers who reserve an iPad 2 will have the device held for no longer than 48 hours for pickup.
AppleInsider reached out to Best Buy on Monday for comment, but has not yet received a response. A leaked memo from the retailer made it clear before Sunday's promotion that the company knew customer interest would exceed available supply.
"Corporate Support Teams know that many stores won't be in the optimal inventory situation or have available units to meet our customers' requests for this ad," it said. "It will be critical that stores have their current reservation(s) worked through and execute any new reservations effectively to take care of as many customers as possible."
In Florida, another reader expressed frustration over the lack of inventory at a Best Buy store in South Miami Beach. Similar to the store in San Francisco, customers in line were not notified before the doors opened if there were any iPad 2 units in stock. Employees reportedly said they were "not supposed to talk about it."
And reader Eric was third in line in Avon, Ohio, where he, too, was not informed before Best Buy store opened for business that there was no iPad 2 stock. In Ohio and Michigan, Best Buy stores advertised that they would have a minimum of three units at each store.
Chris said despite the fact that he was third in line, he was only given an option to reserve an iPad by purchasing a $100 gift card. Best Buy's internal memo to employees said that stores in Ohio and Michigan would "meet the ad minimum" requirement by using the company's internal "Reserve Ticket Process."