Apple's iPad 2 stock improves again, US orders now ship in 1-2 weeks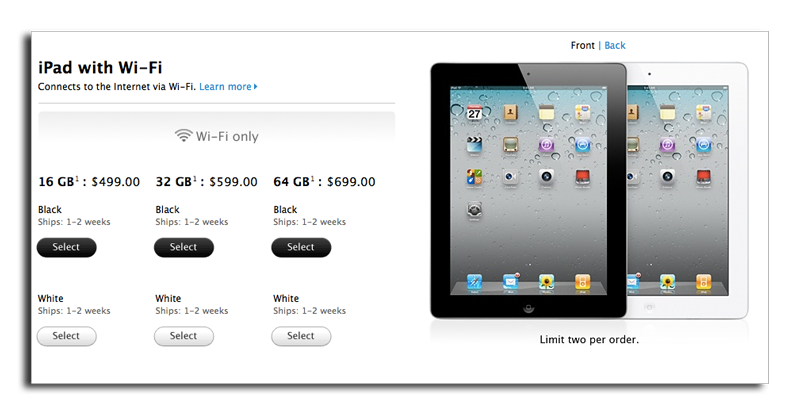 AppleInsider is supported by its audience and may earn commission as an Amazon Associate and affiliate partner on qualifying purchases. These affiliate partnerships do not influence our editorial content.
New iPad 2 orders placed through Apple's online store are now estimated to ship within one to two weeks, as availability of the popular touchscreen tablet continues to improve.
Shipping times of one to two weeks are not just limited to America. Other countries, including Canada, Mexico and Australia, also ship in the same timeframe. Apple's online stores in Europe, however, still estimate a wait of two to three weeks.
The improved shipping times are yet another sign that supply for the iPad 2 is catching up with demand. Since the device launched in the U.S. and 25 other countries around the world in March, Apple has seen huge demand for the second-generation device.
Wednesday's change to shipping times comes weeks after they improved to two to three weeks in early April. Prior to that, new buyers had to wait over a month for their iPad 2 to ship from Apple.
The improved shipping times also come as Apple has expanded retail availability of the iPad 2. On Sunday, some Toys R Us locations in the U.S. began selling Apple's tablet, and in late March, the iPad 2 went on sale at 500 stores owned by RadioShack.
This month, the iPad 2 is scheduled to launch in Hong Kong, Korea, and Singapore, as well as additional yet-unnamed countries. Like retail availability in the U.S., international expansion of the iPad 2 has occurred at a much faster pace than with the first-generation iPad.