Verizon announces 2.2M activations of Apple's iPhone in Q1 2011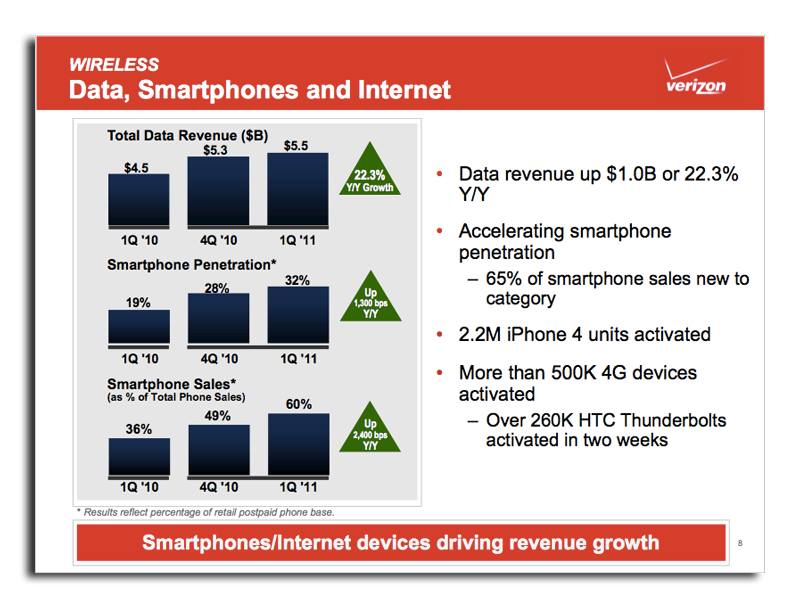 AppleInsider is supported by its audience and may earn commission as an Amazon Associate and affiliate partner on qualifying purchases. These affiliate partnerships do not influence our editorial content.
Verizon on Thursday announced that it activated 2.2 million iPhone 4 units in the first quarter of 2011, a period in which the handset was on sale for less than two months.
The new numbers arrive alongside data for other, competing handsets available on the Verizon Wireless network. The largest carrier in the U.S. also revealed that it activated more than 260,000 HTC Thunderbolt handsets in two weeks, and more than a half-million 4G devices were activated during the quarter.
The carrier also restated that the launch of the iPhone 4 in February was its most successful launch in the company's history.
The three-month frame to start 2011 is the first time that rival carriers AT&T and Verizon have gone head-to-head in iPhone sales. AT&T, which reported its earnings on Wednesday, revealed that 3.6 million iPhones were activated on its network in the first quarter of 2011, a 33 percent increase from 2010.
However, the AT&T and Verizon numbers are not an apples-to-apples comparison, as the Verizon iPhone did not launch until Feb. 10, or more than a month into the quarter.
Apple announced in its own earnings report on Wednesday that iPhone sales in the U.S. were up 155 percent last quarter. Though Apple does not provide a regional breakdown of iPhone sales, based on activations reported by Verizon and AT&T, the company sold at least 5.8 million handsets in the U.S. last quarter.
Those 2.2 million iPhone 4 activations on the Verizon network helped the carrier grow smartphone sales to more than half of its total phone sales. Last quarter 60 percent of postpaid phones sold by Verizon were smartphone, compared to 49 percent in the fourth quarter of 2010.
Smartphone penetration on the Verizon network is 32 percent, up from 28 percent in the previous quarter. And total data revenue is $5.5 billion, with 22.3 percent year-over-year growth.
Verizon Wireless added 1.8 million customers in the quarter, and now has 104 million total connections. For comparison, AT&T revealed on Wednesday that it added just 62,000 customers in the quarter.