Hints of new 'Castle' codenamed iCloud service found in Mac OS X 10.7 Lion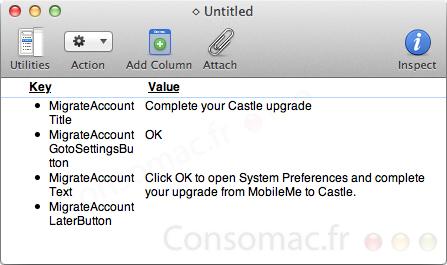 Strong evidence of Apple's upcoming iCloud service has been found in the form of a feature hidden within in a developer build of Mac OS X 10.7 Lion that allows a MobileMe account to be migrated to a codenamed "Castle" service.
After Apple released a third build of Mac OS X 10.7 Lion Developer Preview 2 on Friday, Consomac.fr (via Google Translate) discovered references to a service codenamed "Castle" in a new Find My Mac feature.
"Castle" most likely refers to the iCloud service that Apple has been developing. Reliable sources told AppleInsider earlier this week that the Cupertino, Calif., company has been using the service internally and plans to use it for more than just streaming music.
Last week, a report cited sources claiming that the Swedish company Xcerion had sold Apple the iCloud.com domain for $4.5 million. The iCloud moniker was later independently confirmed by John Paczkowski of Digital Daily, though he was unable to confirm the selling price.
Apple has reportedly completed work on a music streaming service that would allow users to store music on a remote server and access them from Internet-connected devices.
Apple confirmed earlier this year that a 500,000 square-foot data center set to go online this spring will support iTunes and MobileMe services. Given that the $1 billion facility is five times larger than the the company's current data center in Newark, Calif., Apple appears to be planning a big push into cloud computing.
In February, reports emerged that Apple is planning a significant revamp of its MobileMe service that would build out its cloud-based features, including a 'locker' for personal memorabilia such as photos, music and videos.
For in-depth information on new features in Mac OS X Lion, see AppleInsider's ongoing series: Inside Mac OS X 10.7 Lion. Recent features include: