Apple Store visitor figures show iPhone, iPad and Mac 'on a roll' - report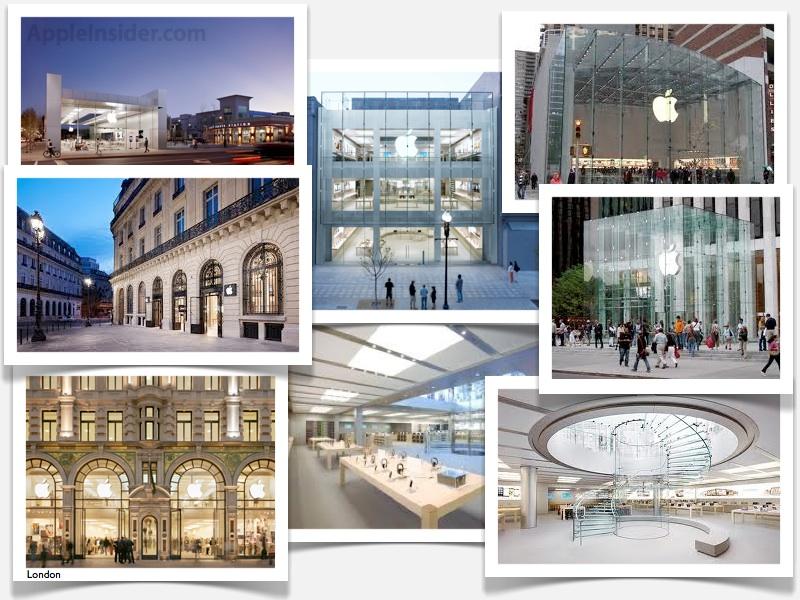 As Apple's retail store initiative is set to turn 10 years old later this month, revenue at the company's brick and mortar stores continues to soar as visitors flock to Apple Stores to try out the iPad.
In the recent March quarter, Apple saw its retail store revenue growth outpace overall revenue growth. The Cupertino, Calif., company posted $3.19 billion in revenue from retail stores, an increase of 90 percent, compared to overall revenue growth of 86 percent.
During the company's quarterly earnings call, executives revealed that, at the close of the quarter, Apple had a total of 323 stores worldwide and was expecting its 1 billionth retail visitor "in the coming days."
The Mac maker will celebrate the 10th anniversary of its retail stores on May 19. Sources indicated to AppleInsider last month that the company may be planning a commemorative event for the occasion, as retail employees have been informed that they will not be allowed to take vacation during the days between May 20 and May 22.
Apple Retail has come a long way since the opening of its first stores in May 2001, and with a total of 40 new stores anticipated in fiscal 2011, Apple's retail successes appear set to continue indefinitely.
However, even given Apple Retail's phenomenal growth curve, Apple Stores around the world find themselves pressed for space. According to the company's annual 10-K filing with the SEC last year, Apple leased 2.5 million square feet of retail building space, roughly 7886 square feet per store.
As the growing number of visitors has quickly outpaced the number of new locations, Apple Stores have become increasingly crowded in recent years, especially in China. Apple's four retail stores in China are, on average, the highest trafficked and highest revenue stores worldwide for the company. Apple has planned an aggressive expansion path for Apple stores in China. The company plans to have a total of 25 retail stores operating in the country within the next few years.
Apple Stores by the numbers
According to Needham & Co analyst Charlie Wolf, Apple stores accounted for 12.9 percent of the company's worldwide revenues in March, up slightly year over year, but down from a high of 21.6 percent in the second quarter of 2008. That decline is presumably due to increased distribution points, such as international carrier stores and big-box retailers, for iPhones, iPods and, more recently, iPads. However, Apple stores' share of worldwide Mac revenues has held steady at around 20 percent in recent years.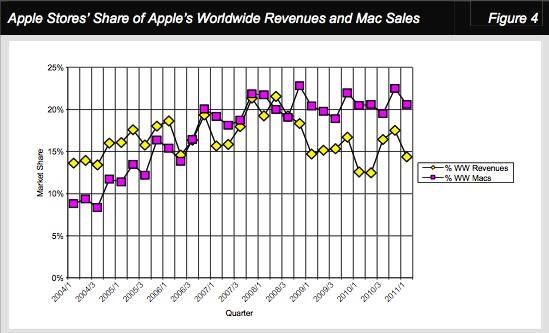 In a note to clients sent Tuesday, Wolf wrote that retail seasonality and non-Mac product cycles have caused irregularities in the growth metrics used to track Apple retail stores. Instead of quarterly revenue estimates, Wolf poses visitors per store figures as a more reliable metric.
By comparing the four-quarter moving average visitors per store, Wolf demonstrates that Apple retail stores have seen retail visitor spikes for each of its post-PC products: the iPod, the iPhone and the iPad. A significant rise in the number of visitors per store in 2006 correlates with the height of the "iPod craze," Wolf said, while another spike in visitors in 2008 stemmed from the popularity of the iPhone. Finally, a third rise in visitors that began in the third quarter of fiscal 2010 can be attributed to the release of the iPad.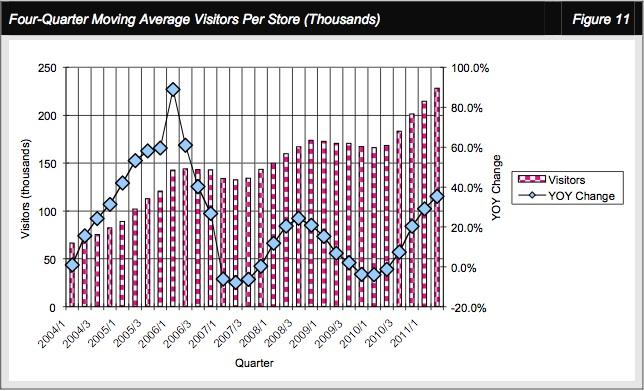 According to Wolf, comparing same-store annual visitors smooths irregularities so that the Apple retail growth curve becomes clear. Wolf asserts that, since Apple's revenues per retail store visitor have hovered around $40 to $50 annually, tracking the number of visitors can work as a proxy for same-store sales growth.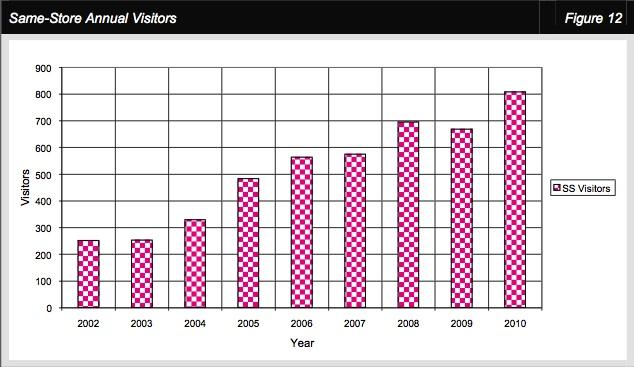 With Apple's iPhone halo effect driving "turbocharged" international Mac and iPad sales and an accelerating shift to international retail stores, Wolf believes Apple Store revenues will "continue on a roll." He maintains a buy rating and price target of $450 for the company's stock.