China iPad 2, white iPhone 4 frenzy causes Apple Store scuffle in Beijing [u]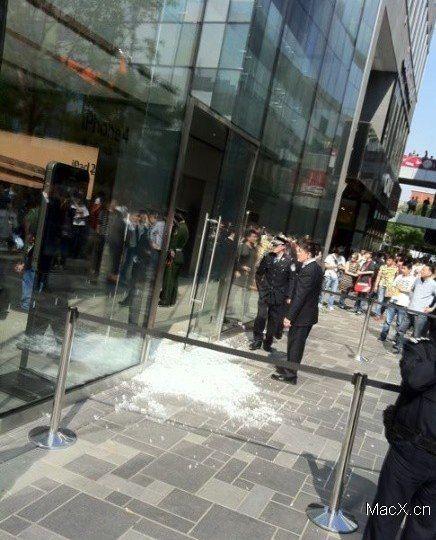 Just one day after Apple's iPad 2 launch drew long lines in China, conflicting reports emerged Saturday regarding an alleged altercation at an Apple Store in Beijing.
Update: CNN reports that an alleged scalper tried repeatedly to cut into a line of customers waiting for the white iPhone 4 at the Beijing Sanlitun Apple Store on Saturday. After security guards and an Apple retail manager attempted to escort the individual away, but a shoving match resulted. After the situation got out of control, security guards locked the front door of the store. Disgruntled customers responded by shaking the glass door, which shattered.
AppleInsider reported on Friday that the launch of the iPad 2 in China drew crowds containing both fans and scalpers. In anticipation of crushing demand for the touchscreen tablet, Apple retail staff had instituted new waiting procedures that included numbered wristbands.
Chinese Mac site MacX (via Google Translate) reports that the Beijing Sanlitun Apple Store temporarily closed for business on Saturday afternoon after an altercation allegedly broke out between scalpers and an Apple Store employee, though the specific details of the incident remain unclear.
The apparent facts of the incident are that four people were injured and taken to the hospital, one of the glass doors for the Apple Store was broken and the store was closed for a time for cleanup and a subsequent police investigation.
The report alleges that a near "riot" erupted after retail staff attempted to close the store and usher customers out the back door. A separate unconfirmed report claims that a fight broke out between "a foreigner and a Chinese man," though MacX notes that the information "is difficult to distinguish between true or false."
According to another unverified report from Chinese micro-blog Sinatech, police sources claim that Apple Store employees battered a self-proclaimed "jobless" man who may have been acting as a scalper.
Apple has drawn crowds with each of its recent major product releases in China. The launch of the original iPad in September of last year drew long lines, with some customers waiting over 60 hours to purchase the device. A week later, the release of the iPhone 4 saw overwhelming demand as thousands of customers lined up for the smartphone.
The Cupertino, Calif., company has just four retail stores in the country, which has a population of over 1.3 billion. Apple has said last month that it has focused most of its emerging market efforts on China. The company has indicated plans to open 25 retail stores in the country over the next few years.