Arrival of Beatles on Apple's iTunes causes uptick in music sales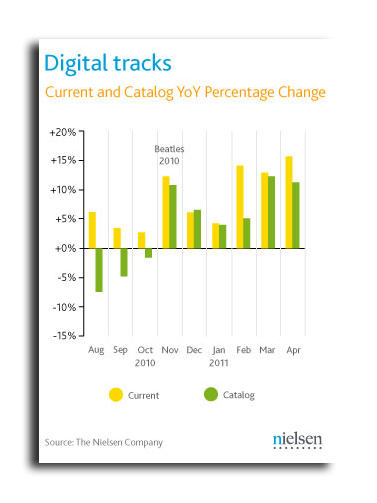 AppleInsider may earn an affiliate commission on purchases made through links on our site.
The availability of The Beatles' catalog on iTunes, along with the resurgence of vinyl, are credited with a 1.6 percent increase in total music sales so far in the U.S. in 2011.
Nielsen this week offered a look at domestic music sales in 2011 through May 8 and found that digital album purchases were up 16.8 percent, while individual digital track sales were up 9.6 percent. Catalog album sales were also up 5.4 percent at the start of 2011, a boost credited to the arrival of the entire catalog of The Beatles on iTunes in late 2010.
Digital music sales through services like iTunes accounted for more than half of all music transactions. In all, digital music sales have increased 12.4 percent over sales in 2010.
And while CDs continue their steady decline in America, sales of vinyl have shown significant growth. Vinyl sales at the start of 2011 were up 37 percent over the same period a year prior, representing the largest increase of any format.
In 2010, vinyl sales also increased 14.2 percent, though they only represented 1.2 percent of all physical sales, leaving CDs by far the preferred format for those who buy music in physical form.
"Strong releases and aggressive promotions by the labels and retailers are among the many contributing factors to the strength we're seeing in the music industry," said Dave Bakula, senior vice president of analytics and entertainment for The Nielsen Company. "Overall, the data reflects a continuing strong demand by music consumers."
The survey also revealed that "rock" is the most popular genre of music, representing 32 percent of album sales. "Pop" music is more popular in digital form, accounting for 40 percent of all digital tracks sold.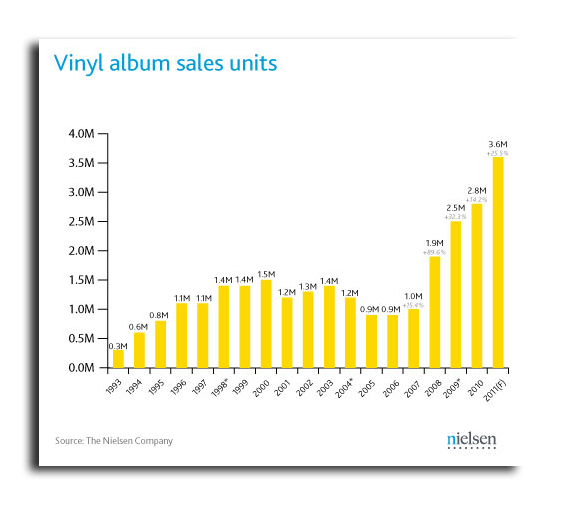 A year ago, it was revealed that iTunes had extended its lead over the competition in digital music sales, accounting for 26.7 percent of all purchases in the U.S. At the time, iTunes was outselling both Walmart and Best Buy combined.
Last November, the entire catalog of The Beatles came to iTunes, with full albums available for $12.99, individual tracks for $1.29 each, and the legendary band's entire box set for $149. By January, total sales had reached 5 million songs and 1 million albums.