Hard drive upgrades restricted in Apple's new Thunderbolt iMacs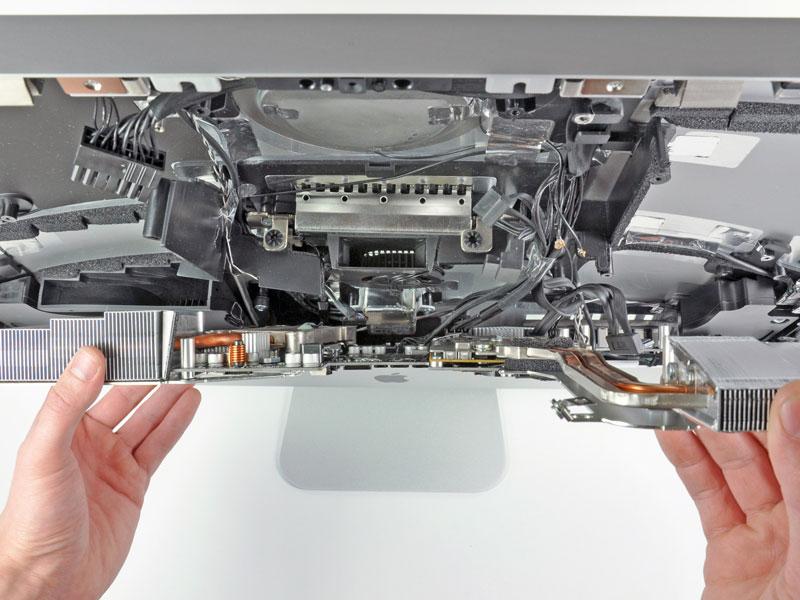 AppleInsider is supported by its audience and may earn commission as an Amazon Associate and affiliate partner on qualifying purchases. These affiliate partnerships do not influence our editorial content.
Apple's newly upgraded iMac desktop line features a new custom 7-pin serial ATA connector and proprietary temperature control system that will make hard drive upgrades difficult for end users.
The internal changes were noted on Thurdsay by Other World Computing, which found that the main 3.5-inch SATA hard drive bay in the new 2011 Thunderbolt-equipped iMacs has been modified significantly. Instead of a standard 4-pin power configuration, the drives in the new all-in-one desktop use a custom 7-pin configuration.
In addition, hard drive temperature control is reportedly detected through a combination of the new cable and proprietary firmware that Apple has on the hard drive itself.
"From our testing, we've found that removing this drive from the system, or even from the bay itself, causes the machine's hard drive fans to spin at maximum speed," the report said," and replacing the drive with any non-Apple original drive will result in the iMac failing the Apple Hardware Test."
The site tried a number of methods to circumvent the changes Apple has implemented in the new iMac, including swapping the main drive out with the same model drive, as well as a different solid-state drive. All testing so far has found that the Apple-branded hard drive not be removed or replaced.
In addition, though the iMac EFI Update 1.6 released earlier this month allows 6Gb/s speeds on two internal ports, the standard 7,200rpm drive that ships with the new iMacs cannot take advantage of those fast throughput speeds.
The site sells a "Turnkey Upgrade Program" that allows for hard drive upgrades on Mac hardware. While the service will not allow upgrades to the main drive, it can take advantage of an external eSATA port or allow additional, secondary hard drives to be added.
Apple's new quad-core Sandy Bridge iMacs with Thunderbolt ports debuted earlier this month. Users can configure the desktop to include both a standard spinning hard drive as well as a 256GB solid-state second drive, on which Mac OS X and all applications will come preinstalled.
The new iMacs were the first hardware to ship with Intel's new Z68 chipset, which allows for faster solid-state drive caching performance with hybrid drives or a combination of SSD and traditional drives. However, Apple's new iMacs do not take advantage of the new caching feature offered by the Z68 chipset.