Apple supplier says next-gen iPhone orders arriving 'several months later than usual'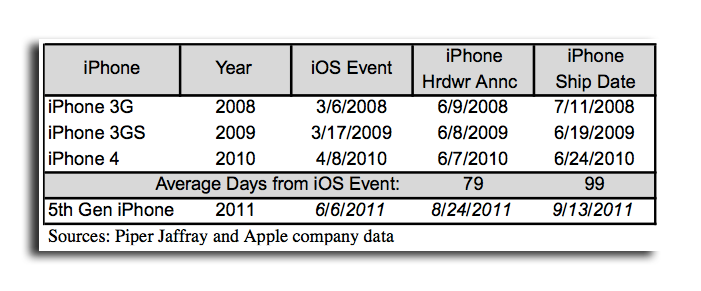 AppleInsider is supported by its audience and may earn commission as an Amazon Associate and affiliate partner on qualifying purchases. These affiliate partnerships do not influence our editorial content.
An iPhone manufacturing equipment supplier has reportedly indicated that Apple's orders for new equipment are "several months later than usual," implying a September launch of the fifth-generation iPhone.
Gene Munster with Piper Jaffray on Friday joined the growing chorus of reports that have indicated Apple will launch its next-generation iPhone later than usual this year. He agrees with previous predictions that the fifth-generation handset will go on sale in September, and his financial models for AAPL stock reflect that timetable.
Munster noted that on average there are 79 days between Apple's iOS software event and the iPhone hardware announcement. There have also been an average of 99 days between the software event and the actual ship date of the new iPhone.
Under the assumption that Apple would introduce new iPhone software, likely iOS 5, at its annual Worldwide Developers Conference, beginning June 6 in San Francisco, the historical averages point to an announcement of the fifth-generation iPhone on Aug. 24, and a shipping date of Sept. 13.
Munster believes that a September quarter launch is "normal" for new iPhone hardware, because the impact of iPhone launches is typically not seen until the September quarter. While the iPhone 3G was released in July, placing it in the September quarter, the original iPhone, iPhone 3GS and iPhone 4 all came toward the end of the June quarter, placing a large number of "launch" sales actually in the following three-month frame.
Apple's chief interests with its anticipated fifth-generation iPhone are believed to be the iOS software that will run on it, and possibly a larger 4-inch display that serves as a "window into the software," Munster said.
He believes a 4-inch display will come to the iPhone by 2012 at the latest, but added that he sees a larger screen as "more likely a 2011 feature." Rumors of a larger screen on the next iPhone, including alleged engineering sketches and prototype hardware, have persisted for months.
As for support for 4G long-term evolution high-speed data connections, Munster sees that functionality as more likely to arrive with an anticipated sixth-generation iPhone in 2012. That would also align with the latest rumors of an LTE-capable iPhone.
As for the reasons for a later-than-usual iPhone launch, Munster said one reason may be that Apple has software-driven features planned for the next handset that are "not yet fully-baked."
He also said supply issues related to the Japan earthquake and tsunami could have had an impact. In addition, the decision whether to support LTE data or not could have delayed the development process.
Piper Jaffray has forecast sales of 16 million iPhones in the June quarter and 21 million iPhones in the September quarter. Munster said even a later-than-usual launch of the next iPhone would not place his numbers "at risk."