Apple to sell Mac OS X 10.7 Lion for $29.99 in July only in Mac App Store

AppleInsider is supported by its audience and may earn commission as an Amazon Associate and affiliate partner on qualifying purchases. These affiliate partnerships do not influence our editorial content.
Apple announced on Monday that Mac OS X 10.7 Lion will be available only in the Mac App Store, and the operating system upgrade will be available for just $29.99.
A new developer preview of Lion will be available to download today, while the final product will become available to users on the Mac App Store in July. The Mac App Store release of Lion and aggressive pricing of the operating system were both first reported by AppleInsider earlier this year.
Mac OS X 10.7 Lion was demonstrated Monday by Phil Schiller, Apple's senior vice president of Worldwide Product Marketing, and Craig Federighi, head of Mac OS X Software. Together, they demonstrated 10 of the more than 250 new features found in Lion.
"The Mac has outpaced the PC industry every quarter for five years running and with OS X Lion we plan to keep extending our lead," Schiller said. "The best version of OS X yet, Lion is packed with innovative features such as new Multi-Touch gestures, system-wide support for full screen apps, and Mission Control for instantly accessing everything running on your Mac."
Features of Mac OS X 10.7 Lion highlighted by Apple include:
New Multi-Touch gestures and fluid animations built into Lion let you interact directly with content on the screen for a more intuitive way to use your Mac. New gestures include momentum scrolling, tapping or pinching your fingers to zoom in on a web page or image, and swiping left or right to turn a page or switch between full screen apps. All Mac notebooks ship with Multi-Touch trackpads and desktop Macs can use Apple's Magic Trackpad.
Full screen apps take advantage of the entire display and are perfect for reading email, surfing the web or browsing photos, especially on a MacBook Air or MacBook Pro. With a single click your app fills the display and you can swipe from one window to another, between full screen apps, or back to your Desktop, Dashboard or Spaces without ever leaving full screen. iWork and iLife apps, as well as Safari, iTunes, Mail, FaceTime and others, all take advantage of Lion's system-wide support for full screen apps.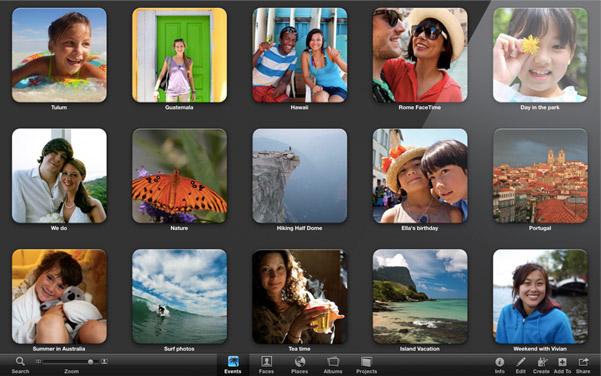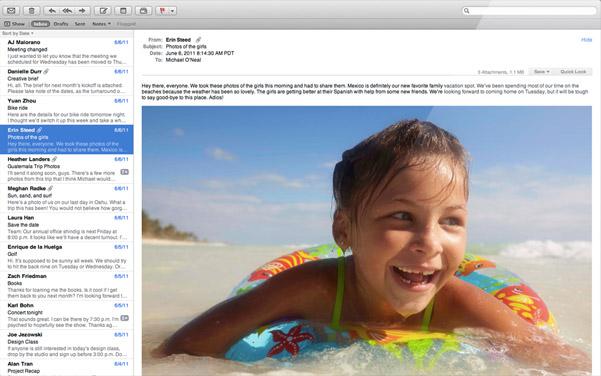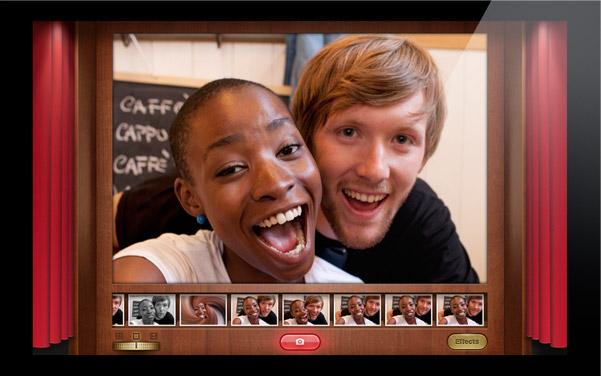 Mission Control combines Exposé, full screen apps, Dashboard and Spaces into one unified experience for a bird's eye view of every app and window running on your Mac. With a simple swipe, your desktop zooms out to display your open windows grouped by app, thumbnails of your full screen apps and your Dashboard, and allows you to instantly navigate anywhere with a tap.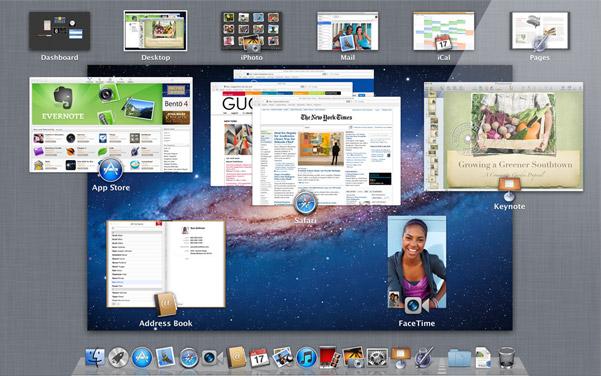 The Mac App Store is built into Lion and is the best place to discover new Mac apps, buy them with your iTunes account, download and install them. Apps automatically install directly to Launchpad, and with Lion's release, the Mac App Store will be able to deliver smaller "delta" app updates and new apps that can take advantage of features like In-App Purchase and Push Notifications.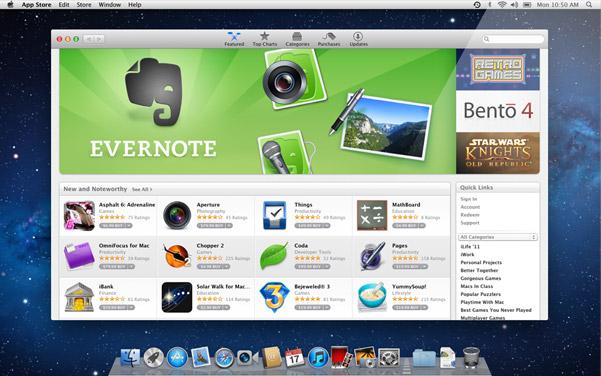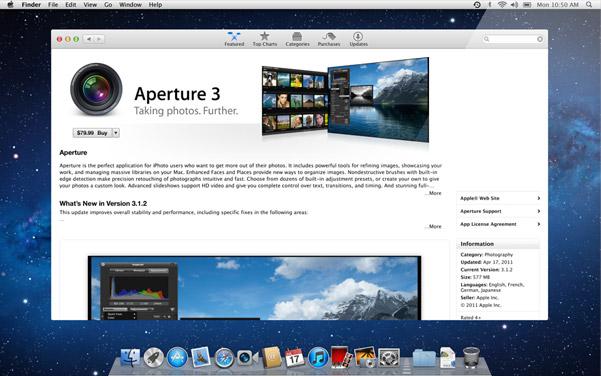 Launchpad makes it easy to find and launch any app. With a single Multi-Touch gesture, all your Mac apps are displayed in a stunning full screen layout. You can organize apps in any order or into folders and swipe through unlimited pages of apps to find the one you want.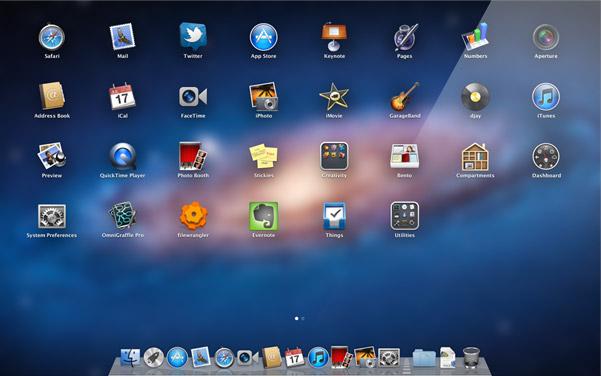 A completely redesigned Mail app with a widescreen layout is also included in Lion. The new Conversations feature groups related messages into an easily scrollable timeline, intelligently hiding repeated text so the conversation is easy to follow, and retaining graphics and attachments as they were originally sent. A new search feature allows you to refine your search and suggests matches by person, subject and label as you type. Mail includes built-in support for Microsoft Exchange 2010.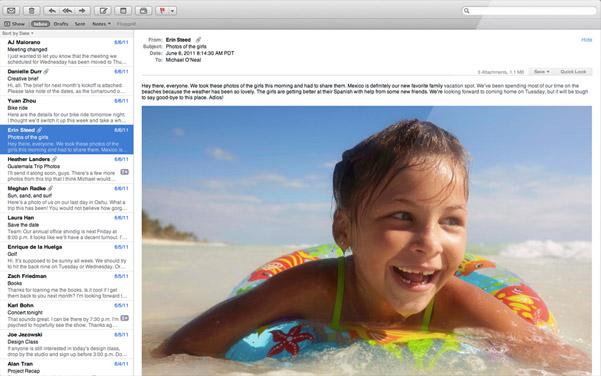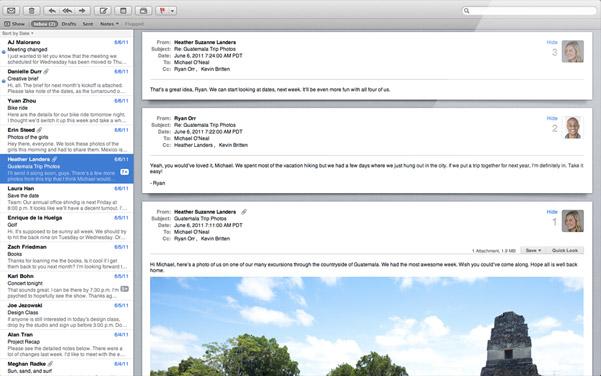 Additional new features in Lion include:
Resume, which conveniently brings your apps back exactly how you left them when you restart your Mac or quit and relaunch an app;
Auto Save, which automatically and continuously saves your documents as you work;
Versions, which automatically records the history of your document as you create it, and gives you an easy way to browse, revert and even copy and paste from previous versions; and
AirDrop, which finds nearby Macs and automatically sets up a peer-to-peer wireless connection to make transferring files quick and easy.
Apple's on-stage demonstrations also included previously highlighted features, such as multi-touch gestures full-screen applications, and Mission Control, Apple's unification of Expose and Spaces.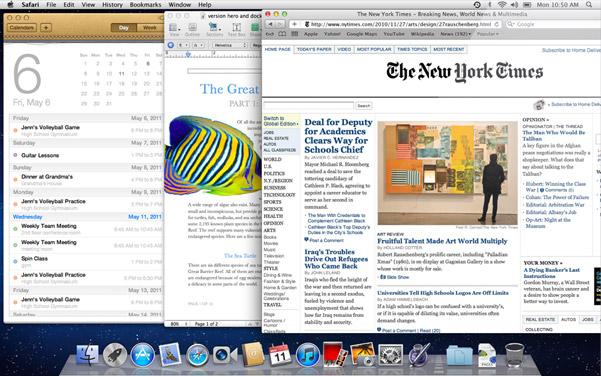 Users can toggle applications into full-screen with a control in the top right of the menu bar, and swipe between full-screen applications by swiping. Full-screen will be built into Mail, iCal, Preview, iPhoto, Photobooth, iMovie and iTunes.
Schiller also boasted that the Mac App Store has already become the most popular destination for buying computer software. The digital download service has surpassed Best Buy, Walmart and Office Depot.
The Mac App Store will be built into Lion and will offer in-app purchases and push notifications, just like in iOS. Apple is also adding delta updates, which should make it faster to patch software.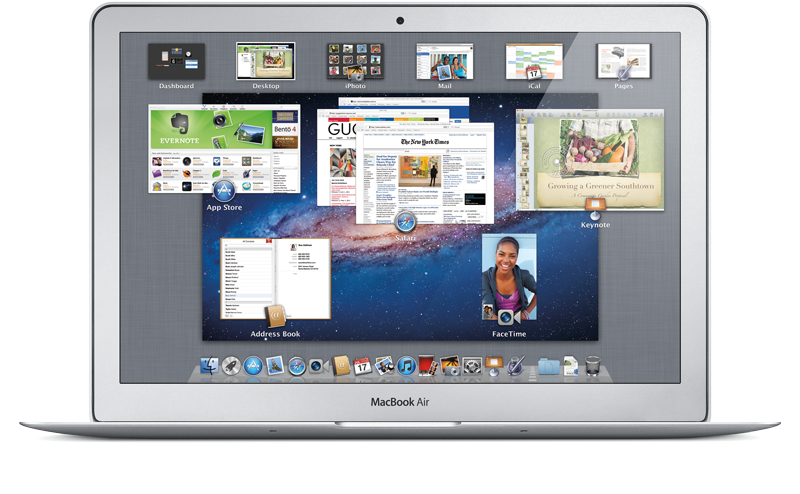 Also highlighted Monday were Launchpad, for launching applications from an iOS-style grid of icons, and Resume, which returns a user to where they left off when an application was closed. Lion will also auto-save documents to ensure data is never lost.
Users can also share files with others by using AirDrop. Schiller joked that the new feature is a replacement for "Sneakernet," where users copy files onto a thumb drive and run them over to a friend.
Lion also boasts a completely new version of Mail, which offers two- and three-column views, as well as a favorites bar. New search suggestions will also recognize whether a search item is a person or a subject, and rules can be created based on these searches.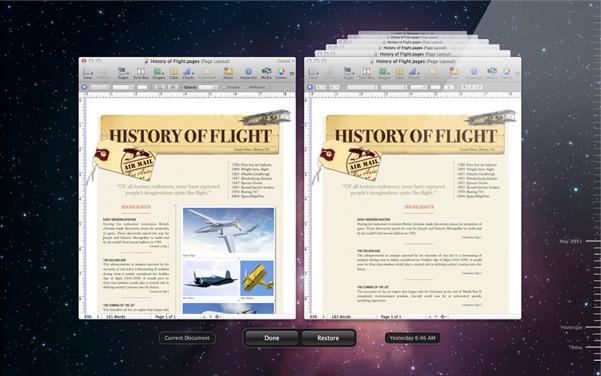 Other features mentioned, but not detailed, include built-in FaceTime, FileVault 2, Windows Migration, Lion Server add-on, Safari Reading list, resize from any edge, Xsan built-in, dictionary lookup smart magnify in Preview, and more.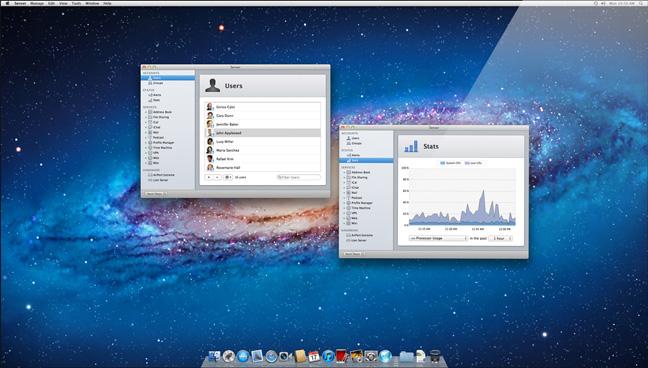 Mac OS X Lion will be available in July as an upgrade to Mac OS X version 10.6 Snow Leopard from the Mac App Store for $29.99 (US). Lion will be the easiest OS X upgrade and at about 4GB, it is the size of an HD movie from the iTunes Store. Mac OS X Lion Server requires Lion and will be available in July from the Mac App Store for $49.99 (US).
Lion requires an Intel-based Mac with a Core 2 Duo, i3, i5, i7 or Xeon processor and 2GB of RAM. The Lion upgrade can be installed on all your authorized personal Macs.
The Mac OS X Lion Up-To-Date upgrade is available at no additional charge via the Mac App Store to all customers who purchased a qualifying new Mac system from Apple or an Apple Authorized Reseller on or after June 6, 2011. Users must request their Up-To-Date upgrade within 30 days of purchase of their Mac computer. Customers who purchase a qualifying Mac between June 6, 2011 and the date when Lion is available in the Mac App Store will have 30 days from Lion's official release date to make a request.