Apple silently issues iTunes 10.3.1 update with no new details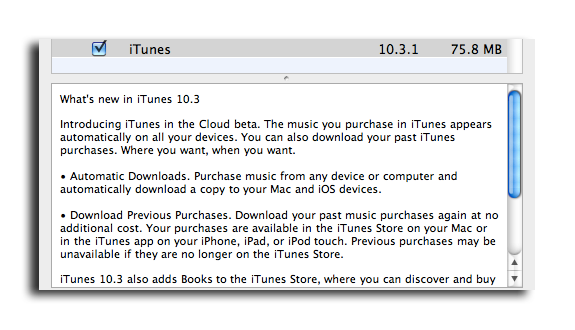 Apple this week quickly issued an update for its new iTunes in the Cloud beta, with version 10.3.1 of the media software issued over Software Update with no additional accompanying information.
iTunes 10.3.1 is a 75.8MB update available via Software Update. The documentation accompanying it simply mentions iTunes 10.3 and the iTunes in the Cloud beta, which were released earlier this week.
The iTunes 10.3 download initially went live on Monday after Apple's Worldwide Developers Keynote. The link was quickly taken down, but returned on Tuesday.
Apple's official iTunes website and download link also labels the file as version 10.3, making no mention of 10.3.1 or what changes it might include. The situation is similar to last year, when iOS 4.2 was publicly released, though issues with Wi-Fi connectivity in the 4.2 golden master led to the version technically being 4.2.1.
Apple's documentation accompanying iTunes 10.3 focuses on the iTunes in the Cloud beta, which allows users to download past iTunes purchases on all devices. The list of features, according to Apple, include:
Automatic Downloads. Purchase music from any device or computer and automatically download a copy to your Mac and iOS devices.
Download Previous Purchases. Download your past music purchases again at no additional cost. Your purchases are available in the iTunes Store on your Mac or in the iTunes app on your iPhone, iPad, or iPod touch. Previous purchases may be unavailable if they are no longer on the iTunes Store.
iTunes 10.3 also adds Books to the iTunes Store, where you can discover and buy your favorite books on your computer and automatically download them to iBooks on your iPhone, iPad, or iPod touch. This version also allows you to use Automatic Downloads with apps and books or download previously purchased apps and books from your computer or iOS device.
Developers already have access to a future version of iTunes, as the 10.5 beta was made available this week. The new software is intended to be used in testing with the iOS 5 beta, Apple TV 2 beta, Xcode 4.2 preview and Lion Preview 4.