Real Racing 2 HD to offer console-style gaming with iOS 5, AirPlay & Apple TV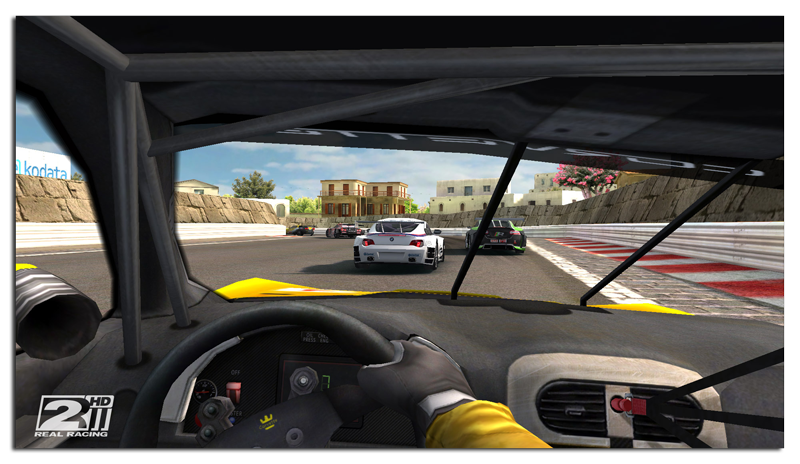 Developer Firemint announced on Wednesday that its popular Real Racing 2 HD game will take advantage of wireless AirPlay Mirroring functionality with iOS 5 and the iPad 2, allowing a console-style gaming experience when streamed to the Apple TV that's similar to the Wii U unveiled by Nintendo this week.
Firemint declared that its racing game will be "first" to allow "wireless big screen gaming" when Apple's iOS 5 arrives this fall. AirPlay Mirroring for iPad 2 was one of many features for iOS 5 highlighted by Apple this week, and the feature will allow users to wirelessly stream whatever is on their iPad 2 screen to an HDTV via Apple TV.
Currently, AirPlay allows users to stream video and audio content to the Apple TV. But AirPlay Mirroring will allow games like Real Racing 2 HD (iTunes link) to offer a more traditional console-like gaming experience, with the iPad 2 acting as a controller for games being played on the big screen.
Previously, Firemint took advantage of Apple's new HDMI adapter to offer 1080p output of Real Racing 2 HD. But that method required users to be tethered to their TV with an HDMI cable.
With iOS 5 and AirPlay Mirroring, Real Racing 2 HD, which sells for $9.99 on the App Store, will be "the most liberating and immersive racing experience ever," Firemint said. The new version will offer full-screen gameplay without a border on an HDTV.
"Relish Real Racing 2 HD's superb visuals as they're streamed effortlessly to your big screen TV," the developer said. "Grip your iPad 2 and steer with unerring precision and the freedom of wireless play. Stay closer than ever to the track with real-time racing telemetry, displayed directly on your iPad's screen."
Both an Apple TV-connected HDTV and the iPad 2 display will be utilized by the game, offering dual-screen gaming over AirPlay. It's a gameplay experience not unlike Nintendo's Wii U, announced at the Electronic Entertainment Expo this week.
The highlight of Nintendo's next-generation console is its controller, which features a 6-inch resistive single-touch screen that has drawn comparisons to Apple's iPad. But Nintendo's touchscreen will be driven by the power of the Wii U gaming console it wirelessly connects to, while the iPad is a standalone device.