Apple accused of appropriating rejected 'Wi-Fi Sync' app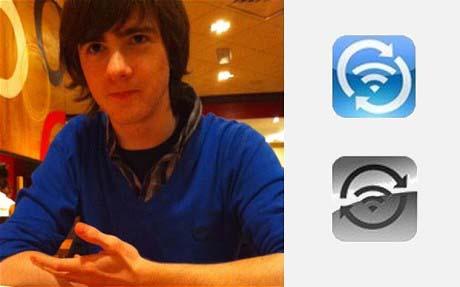 AppleInsider is supported by its audience and may earn commission as an Amazon Associate and affiliate partner on qualifying purchases. These affiliate partnerships do not influence our editorial content.
After Apple revealed its new Wi-Fi Sync feature in iOS 5, the company has been accused of ripping off the work of a developer whose app, which is also titled "Wi-Fi Sync," was rejected from the App Store.
Developer Greg Hughes, who is also a student at the University of Birmingham, created the "Wi-Fi Sync" app last year and submitted it to Apple's App Store. But, the app was rejected by Apple.
An Apple representative contacted Hughes to explain the rejection, saying the app didn't "technically break the rules," though it did "encroach upon the boundaries" of what is allowed in the App Store. Hughes turned instead to the Cydia store for "jailbroken" devices and has since sold over 50,000 copies of the app.
After Apple previewed iOS 5's new Wi-Fi Sync feature, complete with a similar logo, on Monday Hughes was "completely shocked," The Telegraph reports. Apple's take on Wi-Fi syncing will automatically sync and back up an iOS 5 device to iTunes over a Wi-Fi connection whenever the device is connected to a power source.
"I'd been selling my app with that name and icon for a year. Apple knew about it as I'd submitted it to them, so it was surprising to see that they had pinched it for iOS 5," he said.

Developer Greg Hughes; Wi-Fi Sync app logo (top), Apple Wi-Fi Sync logo (bottom) | Source: The Telegraph
Hughes said he has gotten legal advice and plans to "stand up and defend" his work. According to him, the App Store representative he spoke with last year told him that the iPhone engineering team had seen his app and "were quite impressed."
Smaller developers have faced similar situations in the past as Apple has progressively added features, such as the iBooks app and App Store recommendations, to iOS. The issue will likely be as the iOS developer ecosystem continues to grow.
Apple revealed this week that there are now 425,000 apps on the App Store, with more than $2.5 billion paid to developers. Over 200 million iOS devices have been sold, giving Apple 50 percent of the market.