Apple's iTunes Store, App Store now cost roughly $1.3 billion a year to operate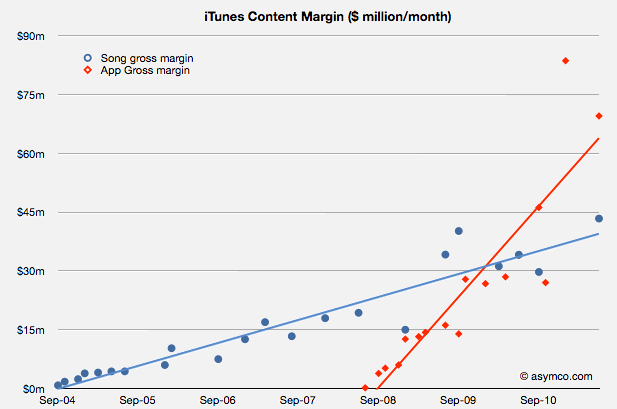 The costs associated with maintaining the iTunes Store and App Store have grown to more than $1.3 billion a year, according to one estimate.
Asymco blogger Horace Dediu crunched the numbers using data published by Apple at last week's Worldwide Developers Conference. Dediu assumes that Apple continues to run the stores at "just above break even."
The company has said for years that the iTunes Store and App Store do not generate much profit, as most of the it is invested back into supporting the stores.
According to Apple, the digital storefronts have reached 15 billion song downloads, 130 million book downloads and 14 billion app downloads. There are now 225 million iTunes accounts and 50 million Game Center accounts. The App Store offers 425,000 apps, including 90,000 apps developed specifically for the iPad.
Dediu combined Apple's download estimates with the average price of songs and apps and the split between developers or music labels and Apple to arrive at his estimate. After adding together the content margin for songs and apps, Dediu estimates that operation costs reach approximately $113 million per month, from a total income of $313 million month.
"Much of that cost does go into serving the content (traffic and payment processing). Some of it goes to curation and support. But it's very likely that there is much left over to be invested in capacity increases," Dediu said.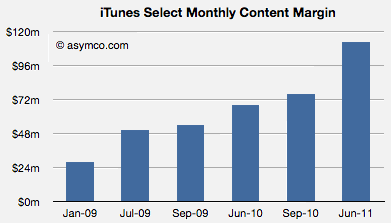 Apple's most significant investment toward capacity increases likely came in the form of a $500 million data center in Maiden, N.C. The company said this spring that the facility, which is nearly five times the size of its existing Newark facility, would support the iTunes and MobileMe services. Given that MobileMe is due to be phased out in June 2012, the server farm will support the just-announced iCloud service.
iTunes has become the largest music and movie store in the world. In April, reports emerged that Apple had ordered 12 petabytes, or 12,000 terabytes, of additional storage for hosting video content on iTunes.