iCloud to address other half of iPhones never backed up via iTunes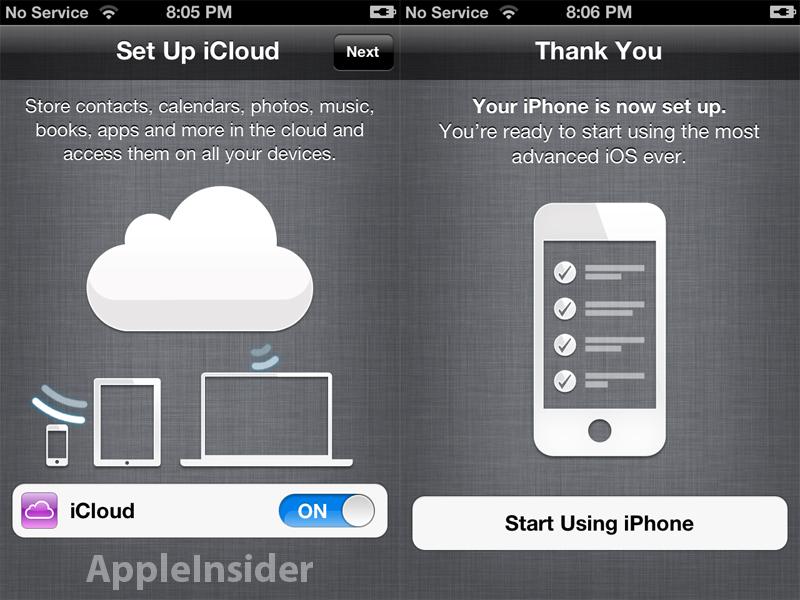 Apple's new iCloud offering will not only offer iPhone users an experience untethered from iTunes, but will also be a timesaver for the company's retail store employees dealing with customers who have never synced or backed up their devices.
According to a blogger report by OneFPS, about half of the Apple Store customers who need to have their device replaced "have never plugged them into iTunes after the initial activation and sync," a fact that makes "Apple Store Geniuses are excited about iCloud."
Apple's iOS devices have always required users to plug in their iPhone, iPod touch or iPad to iTunes via USB to begin its initial setup. Every time the device is plugged back into that system, iTunes does a backup of the device; transfers photos, music, videos and other documents as the user has configured during setup; syncs apps purchased in iTunes as well as apps purchased on the device and suggests any new software updates that are available.
If users don't plug into iTunes however, their devices are never backed up and their iOS version is not updated. According to the aggregate analytics of a variety of developers and ad networks, most of Apple's iOS users do regularly update their system software.
However, it appears that a large portion of the subset of iOS users who need assistance are not using iTunes regularly, leaving their mobile devices without a current backup of their data, apps and media purchases. This leaves these users in a position no better than cloud-only mobile products connected to a service that experiences a cloud failure, as the customers of Google, Microsoft, RIM, Palm and Nokia have all experienced.
While Apple's iTunes-centric model for device management works well for those who remember to regularly plug into a desktop computer, the company noted during its WWDC keynote that a large proportion of users in China and other important markets frequently don't even use a desktop computer, making iTunes sync and setup less than ideal.
iOS 5 introduces a number of new features intended to allow mobile devices to be set up without a connection to iTunes and then perform ongoing backup, sync and updates wirelessly going forward, centered around Apple's free iCloud service.
Once set up (depicted below), iOS 5 will also allow users to perform operations such as setting up new calendars or playlists without needing an external PC sync. Once users begin taking advantage of iCloud, the number of users who have never backed up or updated their software should drop precipitously.
The new iOS software update for Apple's mobile platform, which becomes available later this fall, will automatically begin syncing operations whenever it is plugged into power while a WiFi network is available, which should cover most users at home, work or school. Apple has also added direct iOS device configuration of its Airport wireless base stations to make this even easier for new users to set up.
Apple's move to cloud-centric sync and backups could expose iOS 5 users to the same types of cloud failure data losses that have hit customers of nearly everyone in the business of cloud computing, and Apple itself has suffered outages and data corruption issues with its MobileMe service. How well the company manages the rollout of its iCloud services will be critical in determining how confident iOS customers can be with a new reliance upon the cloud.