Cease and desist threats authenticate recent Final Cut Pro X screenshots [u]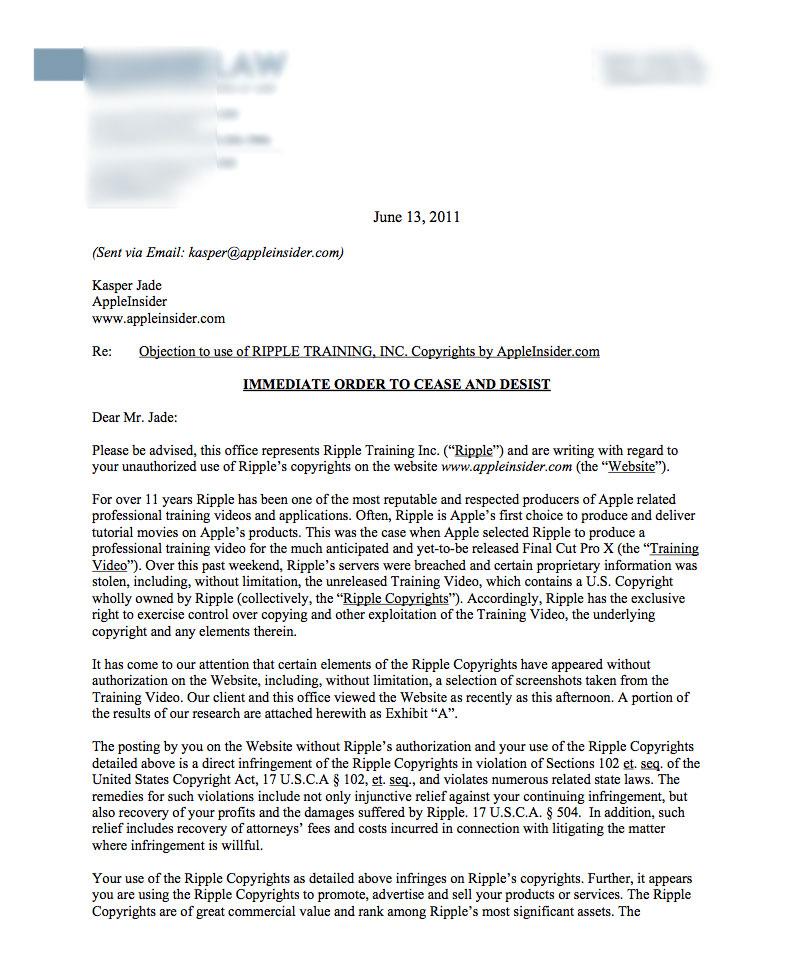 Screenshots of Apple's forthcoming Final Cut Pro X software that leaked onto the Internet this past weekend were allegedly obtained without permission from the servers of a company that contracted with Apple to create tutorial videos for the new software, AppleInsider has learned [updated].
Cease and desist letters have gone out in an attempt to recall the screenshots, which were originally posted publicly on the social networking site Twitter on Sunday. Since then, user MortGoldman2 has continued to post additional pictures of the unreleased software.
The legal threats were sent out this week by Ripple Training Inc. at the demand of Apple, and state that the company has created professional training videos and applications for Apple for over 11 years. Its most recent video made for Final Cut Pro X is apparently the source of the screenshots that appeared days ago.
"Over this past weekend, Ripple's servers were breached and certain proprietary information was stolen, including, without limitation, the unreleased Training Video, which contains a U.S. Copyright wholly owned by Ripple..." the cease and desist says.
Update: The photos in question were still available in the TwitPic account of "Mort Goldman" Tuesday afternoon, but by 5 p.m. Eastern, they were removed. One of them was entitled, "don't shoot the messenger."
The latest rumor on Final Cut Pro X, which surfaced earlier Tuesday, claimed that the software will become available on the Mac App Store next week, and that a number of third-party Thunderbolt-compatible accessories geared toward video professionals will be unveiled at the same time. Separately, AppleInsider can confirm that the official release of Final Cut Pro X will occur within the next 10 days.
Earlier this year, Apple showed off Final Cut Pro X to a group of industry professionals at a National Association of Broadcasters conference. At the time, it revealed that the software would be available for $299 in the Mac App Store in June, but since then has not offered any additional information on Final Cut Pro X.
Prior to this weekend's leak, another set of images also appeared on Twitter earlier this month, and offered a first-look at Motion 5. Details accompanying those earlier pictures, posted by Twitter user "BWilks2001," also said that Apple will "supposedly" release a new version of its Color application. It is unknown whether those pictures and details came from the same source as this weekend's leak.