American Airlines to save $1.2 million shifting paper flight charts to iPad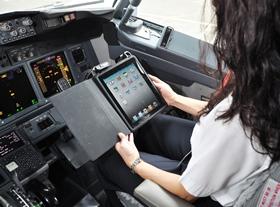 American Airlines has started a pilot program to test the use of Apple's iPad running a specialized app providing paperless flight navigation charts, a tool it says will save it over a million dollars a year in fuel costs.
Pilots' iPads will replace flight bags of paper charts that typically weigh 35 pounds or more, according to a report by MarketWatch.
The airline will be using iPads to test the new system on two flights between Los Angeles and Tokyo and Shanghai.
American Airlines joins Alaska Air in working to shift paper flight charts to the iPad; Alaska began the shift in May.
The US Federal Aviation Administration previously classified the iPad as a "class 1" electronic device, meaning it must be stowed during takeoff and landing, even by pilots. However, the FAA has since specifically approved the use of the iPad app providing tables and other information for use during all phases of flight, making it the first time a tablet has been usable during takeoff and landing.
American began offering some of its first class and business cabin customers Samsung-built Galaxy Tab devices running Android for in-flight entertainment, capable of tapping into the WiFi networks present on certain aircraft models.
In order to work suitably, Samsung said it would "customize the Galaxy Tab for American's in-flight entertainment needs, including the addition of expanded memory."
Samsung's tablets are not yet capable of working as electric flight charts however, because they can't run the FAA-approved flight charting app.