iCloud product manager departs Apple for health education company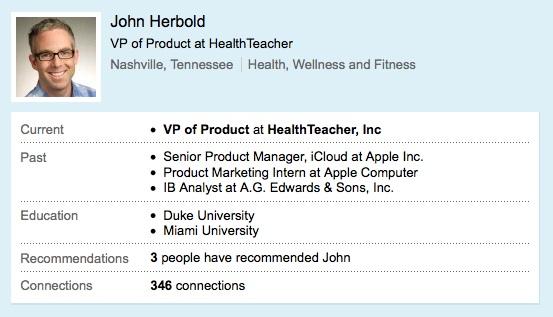 AppleInsider is supported by its audience and may earn commission as an Amazon Associate and affiliate partner on qualifying purchases. These affiliate partnerships do not influence our editorial content.
Apple's Senior Product Manager for iCloud has left the company to join youth health curriculum provider HealthTeacher as Vice President of Product.
HealthTeacher announced Tuesday in a press release that John Herbold has left Apple to "lead the development of interactive products focused on improving youth health" for the company.
Herbold served as a Senior Product Manager for iCloud from June 2007 to June 2011, according to his LinkedIn profile. HealthTeacher's statement notes that he "played a key role in the creation, development and launch of iCloud and led the development and marketing of Photo Stream" during his time at Apple. Prior to working on iCloud, Herbold served as a Senior Product Manager on the MobileMe team.
"HealthTeacher is already playing a significant role in improving youth health through its work with teachers and schools. I look forward to leading the effort to enhance digital engagement that will equip our youth for a more successful future," Herbold said.
Herbold graduated from Miami University in 2002 and worked as an IB Analyst for A.G. Edwards & Sons before going to business school at Duke University. While in business school, Herbold worked at Apple as a Product Marketing Intern, eventually joining the company full-time after he graduated in 2007.
Apple will officially launch iCloud this fall. The Cupertino, Calif., company previewed the free service earlier this month, highlighting seamless backups of iOS devices, iTunes in the Cloud and a Photo stream service that will automatically upload photos from iOS devices and push them to other devices and computers.
Herbold joins a couple other high-profile employees who have left Apple in recent months. Bertrand Serlet, who served as the company's Mac OS X software chief and had worked with CEO Steve Jobs for 22 years, left the company in March. Last week, Apple's retail boss Ron Johnson moved on from the company to become the CEO of retailer J.C. Penney. Johnson oversaw the launch of Apple's successful retail business through to its ten year anniversary last month.
While Serlet's replacement came internally, Apple has yet to find a replacement for Johnson and is "actively recruiting" for a new retail chief.