iCloud seen as further evidence of Apple television coming late 2012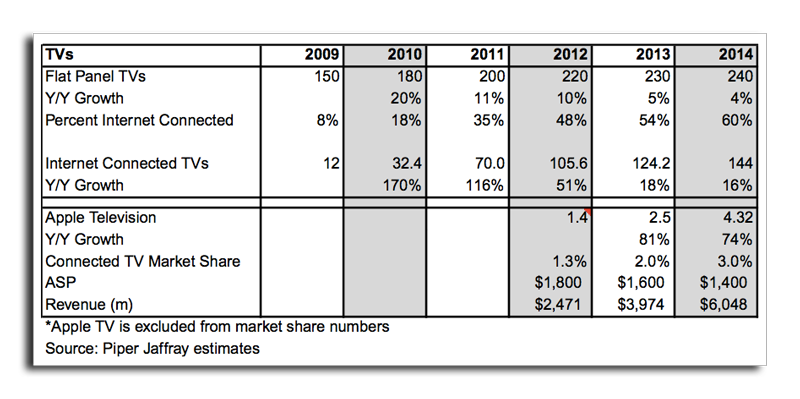 AppleInsider may earn an affiliate commission on purchases made through links on our site.
Apple's newly unveiled iCloud service, which will make it easier to share content among multiple devices, is seen by one prominent analyst as even more evidence that the company is planning to release a high-definition television set as soon as late 2012.
Gene Munster with Piper Jaffray on Thursday reiterated his long-held stance that Apple is working on its own full-fledged television set, rather than just a set-top box like the current Apple TV. He said the forthcoming iCloud service would make an Apple-branded television even more plausible.
"Apple's iCloud service for media storage makes it easier to own multiple devices and share content among them," he said in a note to investors. "At first the only media iCloud will store is music and pictures, but we believe Apple may add movies and TV shows purchased or rented in iTunes to the iCloud service, which could be viewed on a TV."
In fact, last month it was said that Apple was in negotiations with movie and television studios, in an effort to allow customers to re-download purchased content on multiple devices. Currently, iCloud allows users to obtain music they have already purchased through the iTunes Store or App Store.
Munster also cited Apple's multiple television-related patents, which he said have continued to be published by the U.S. Patent & Trademark Office as recently as May. He also restated his belief that Apple's prepayment for $3.9 billion in components could allow Apple to secure up to 50-inch LCD displays.
The latest note to investors comes quickly after a recent report claimed that Apple plans to release an iOS-powered high-definition television later this year. But Munster sees a successor to the current Apple TV set-top box more likely to arrive in late 2012.
He believes that as Apple moves toward the release of a rumored television set, the company may open up the existing iOS-powered $99 Apple TV to third-party developers. He sees an official App Store for the Apple TV debuting within the next year.
"The final step would be bringing the Apple TV software and the App Store to an Apple Television," he said. "Apple's expertise in software and apps would be a strong differentiator for the company in the television market."
Munster said that an Apple television could add $2.5 billion, or 2 percent, to Apple's revenue in 2012, growing to $4 billion, or 3 percent in 2013. By 2014, the analyst sees a supposed Apple television earning the company $6 billion.