Google gave original Mac designer free rein on new Google+ UI [u]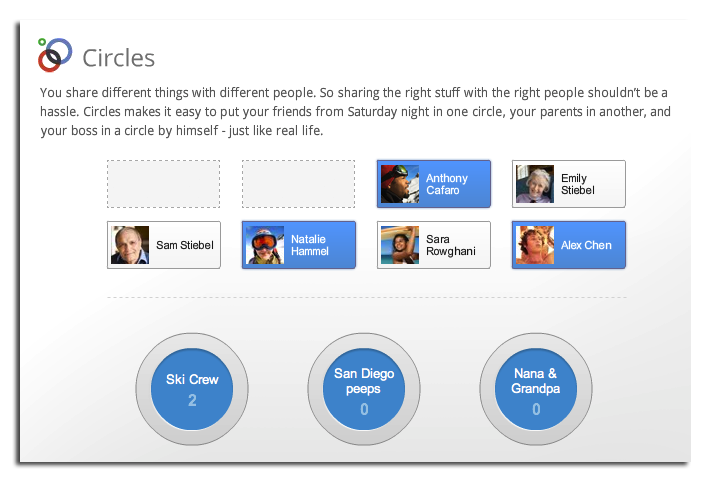 Google's new Google+ social networking project departs from the company's usually spartan interfaces with an animated UI designed by original Apple Macintosh team member Andy Hertzfeld.
Update: Hertzfeld has written a Google+ post giving credit to his colleagues who also contributed to the service's user interface. While he admits to having "almost single-handedly" designed the Circles editor, he also notes that he wasn't responsible for the design of the entire product. "Now some people are saying that I'm responsible for the broad visual refresh now rolling out across Google, which couldn't be further from the truth - in fact, I'm not even sure I like it," he wrote.
The search giant announced its Google+ endeavor on Tuesday. After the design of the service quickly drew praise, it was discovered that Hertzfeld played a significant role in developing it.
A self-described "Software Wizard" while at Apple, Hertzfeld joined the company in 1979 and was instrumental in the design of the Macintosh's graphical user interface. After leaving Apple in 1984, he co-founded several companies and founded Mac history website folklore.org, before starting work at Google in 2005.
The company appointed Hertzfeld as the design leader for Google+, which was codenamed "Emerald Sea." Given that Google is known for its stripped-down design ethos, Hertzfeld has at times felt "constrained," Steven Levy reported for Wired.
According to the report, Larry Page, co-founder and now CEO of Google, is notorious for despising "swooshy" designs and animations. But, the new Google+ interface, especially the Circles social grouping feature, contains animations and other choices reminiscent of Apple's design ideals.
"With colorful animations, drag-and-drop magic and whimsical interface touches, Circles looks more like a classic Apple program than the typically bland Google app," said Levy, author of the book "In The Plex: How Google Thinks, Works And Shapes Our Lives."
Hertzfeld admitted to having taken a risk with the Circles design."It wasn't a given that anyone would like what I was doing, but they did," he said.
"I've heard in the past that Larry Page he didn't like animations but that didn't stop me from putting in a lot of animations in, and Larry told me he loves it," he continued. "Maybe Apple's resurgence had a little bit to do with it."
Google+ appears set to challenge rival Facebook, the current king of social with 750 million monthly active users. Earlier this month, former Google CEO Eric Schmidt admitted that he "screwed up" by not pushing harder to compete with the social network.
The Mountain View, Calif., company is touting new Google+ features such as Circles, Hangouts, Instant Upload, Sparks and Huddle. Circles allows for easy grouping of and sharing with friends of family. Hangouts bring the "unplanned meet-up" to the web with group video chats.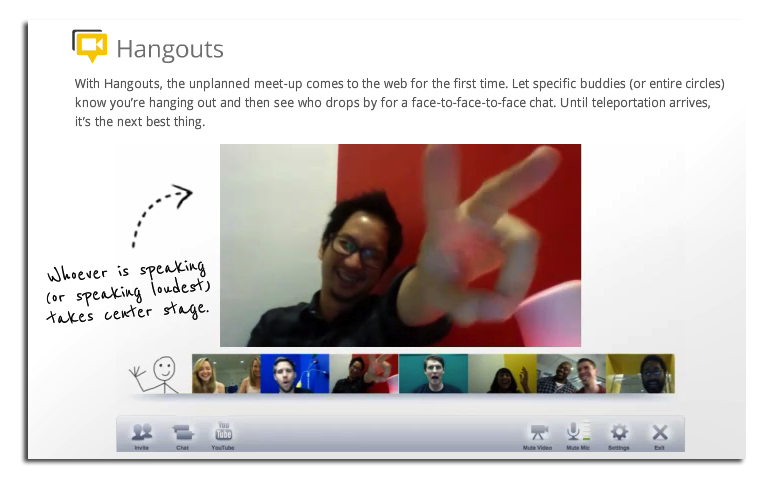 The Instant Upload feature automatically uploads photos and videos from Android devices to a private Google+ album. Sparks tracks a user's interests and recommends content it thinks he or she will like. Finally, Huddle is a group chat feature.
Google launched the service Tuesday with an invitation-only "limited field trial" period. The company also released a Google+ Android client on Tuesday, and promised an iOS version is "coming soon."
In addition to the Google+ announcement, the company unveiled redesigns of its core search page and mobile website. The new search page features a now black menu bar, while the mobile main page now sports a "drawer" with links to commonly used sites, individual search types and web apps.