Needham sees Apple shipping 30M iPads, 17M Macs in 2011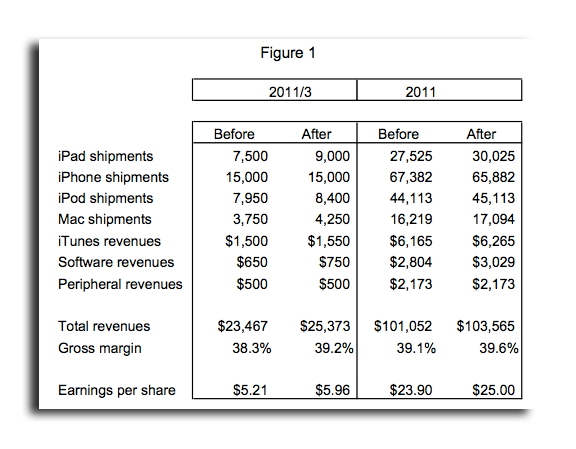 AppleInsider is supported by its audience and may earn commission as an Amazon Associate and affiliate partner on qualifying purchases. These affiliate partnerships do not influence our editorial content.
Needham & Company increased its revenue and earnings per share estimates for Apple on Tuesday, with new figures that reflect higher estimated shipments of 30 million iPads and 17 million Macs in 2011.
Analyst Charlie Wolf's new estimates take into account higher-than-expected demand for the iPad 2 since it launched in March. In the third quarter of fiscal 2011, Wolf originally projected Apple would sell 7.5 million iPads; now he sees that number hitting 9 million.
"While competitors have rushed to launch competing tablets, they have made an imperceptible dent in the trajectory of iPad sales," Wolf wrote in a note to investors. "They have been unable to undercut the price of the iPad; and they're fallen woefully short in matching its features, ease-of-use and the number of applications written for the device.
"Indeed, the only risk in our forecast is on the supply side, not the demand side."
Wolf has also increased his third quarter Mac shipment estimate to 4.25 million units, up from the previous prediction of 3.75 million. With another 4.9 million Macs in the fourth quarter, he sees shipments for Apple's fiscal 2011 reaching 17 million.
The updated numbers also include slightly lower estimated iPhone sales. Wolf said he reduced fourth-quarter shipments from 17.5 million to 16 million because Apple is likely to reduce channel inventory of the iPhone 4 before the fifth-generation iPhone goes on sale.
Needham's third-quarter revenue estimate has been increased to $25.4 billion, up from $23.5 billion. In fiscal 2011, he sees Apple earning $103.6 billion, an increase from the previous prediction of $101.1 billion, with earnings per share of $25 for the year.
Wolf's forecast of 2012 revenues was also bumped up to $130 billion, from $125.2 billion, with EPS of $30.
A week ago, Wolf made a prediction that the iPhone will continue to win back share from Google's Android platform in the U.S. smartphone market. He found that Android experienced its first sequential loss of market share in any region in the U.S. during the December quarter.
Wolf also has high hopes for the success of the Mac in the enterprise market. In May, he noted that enterprise Mac sales grew 66 percent in the previous quarter, easily outpacing the PC industry's growth of 4.5 percent in the same market.