Apple exploring simpler networking, printer discovery via RFID or something new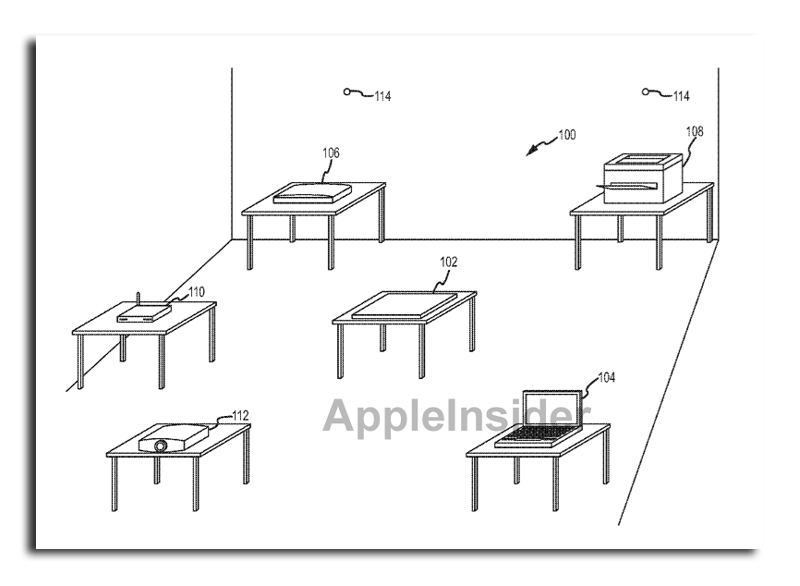 Apple has shown interest in improving device discoverability and local networking using existing technology like RFID, Wi-Fi or Bluetooth, or even a new proprietary wireless method.
The details come from Apple's latest patent application, entitled "Local Device Awareness," and discovered by AppleInsider. The document, made public this week by the U.S. Patent and Trademark Office, describes a number of electronic devices within close proximity being able to automatically communicate with each other and share information with minimal to no user input.
Apple notes in its patent application that while networked devices can communicate with each other over great distances, communicative proximity is not equal to physical proximity.
The Mac maker's solution would not only make device discoverability simpler, but could strip away some of the current requirements, such as the need for devices be located on the same Wi-Fi network. Devices could communicate through a unique protocol that would constantly be on the lookout for new hardware to connect to.
Networking capable devices like Macs or iPhones, as well as other hardware like specially equipped printers, could communicate with one another over existing standards like Wi-Fi or Bluetooth to allow discoverability. Another technology repeatedly mentioned in Apple's application is radio-frequency identification, or RFID, which is a short-range wireless standard that is currently found in a limited number of devices.
The application notes that Apple could also adopt a new, unique wireless technology that would allow devices to communicate without tying up services that are often used for other purposes, like Wi-Fi or Bluetooth. The system could even use GPS to locate the exact position of a piece of hardware and display it on a map, like letting a user know where a printer or projector are located.
With this greater level of connectivity, Apple could also offer simpler interactivity. The application makes note of a unique user interface for sending tasks to certain devices. For example, using a touchscreen device like an iPad, a user could drag and drop a document onto a projector icon to have that document displayed on the device.
In addition to more practical functions like connecting to a printer, Apple's application notes that this method could also be used for playing multiplayer games. It describes a game where users might shake an accelerometer-equipped device like an iPhone or an iPad to roll a set of virtual dice, or even use physical dice equipped with RFID.
The proposed invention is credited to Brett Bilbrey, Aleksander Pance, Nicholas King and Todd Benjamin. It was originally filed with the USPTO on Dec. 31, 2009.