iBooks to boost Apple's iTunes into a $13 billion business by 2013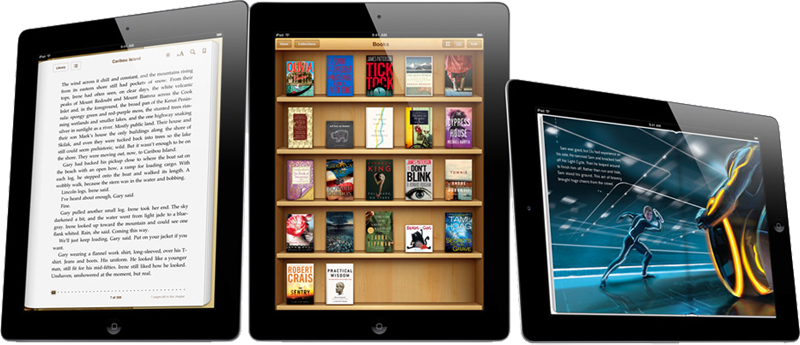 Apple's ubiquitous iTunes Store and its associated services are forecast to generate a staggering $13 billion in revenues during the company's fiscal 2013, growing at an expected rate of nearly 40% over the next three years as publishers trend towards its iBook format.
That's according to Global Equities Research analyst Trip Chowdhry, who singled out iBooks as one of the primary growth catalysts behind the Cupertino-based company's digital download business, explaining that his research shows that book publishers themselves have begun to prefer Apple's iBook 'ePub' format over that of Amazon's market-leading Kindle format.Â
He further suggests that the quality of the iBooks app offered by Apple far exceeds that of the Kindle app supplied by Amazon, which may influence where books are being bought. "[R]esearch with students indicates that they would rather have books on iPad vs. Kindle," he said, adding that in terms of usability on a scale of 10, the iBook app is "probably 8 and Kindle application on iPad is probably [a] 5."
The Kindle application "lacks the finish and crispness of an iBook," he said.
Alongside the recently announced milestone of 100,000 iPad apps on the AppStore, statistics show the typical number of apps found on the average user's iPad has at least tripled in the past six months, rising from fifteen to more than forty-five.Â
As such, Chowdhry has increased his revenue projections for Apple's recently ended fiscal third quarter by taking into account the rapid rise of Apple's iBook and App Store businesses, the company's presumably strong 'Back To School' sales and its market share successes in the enterprise.
He's now forecasting revenues of $24.80 billion to go along with earnings of $5.81 a share, showing a year-over-year increase of 58 percent and 65 percent, respectively, for the three-month period ended June. On average, analysts polled by Thomson Reuters expect Apple to earn $5.69 per share on sales of $24.67 billion.
For the entire fiscal year of 2011, Chowdhry estimates call for revenues of $104.08 billion and earnings of $25.09, showcasing a 59.8 percent and 65.6 percent increase from last year. This compares to Street consensus estimates of $24.82 per share on revenues of $103.52 billion.
iTunes was released 10 years ago on Jan. 9, with the iTunes Store being launched alongside Version 4. Since then, over 10 billion tracks have been downloaded, making it the most successful music store in history.