Spotify officially coming to the US to take on Apple's iTunes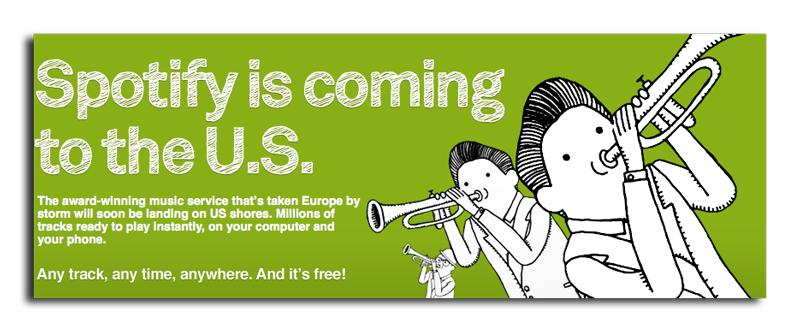 Popular music streaming service Spotify has officially announced it is coming to the U.S. "soon," but no date has been given for when the service will launch and compete with Apple's iTunes Music Store.
Spotify launched a new page on Wednesday to announce that the service is coming to America. It boasts that users will be able to access "any track, any time, anywhere" for free.
"The award-winning music service that's taken Europe by storm will soon be landing on US shores," the page reads. "Millions of tracks ready to play instantly, on your computer and your phone."
Rumors of a U.S. launch for Spotify have persisted for some time, with the project reportedly in the works since at least May of 2010. Its apparently impending arrival comes after Apple has announced that its free iCloud service will arrive this fall, but not with music streaming as numerous rumors had previously indicated.
Spotify offers cloud-based music streaming with more than 8 million tracks for free with advertising support. For $15 per month, users can access the service with no ads, and download thousands of songs to an iPhone or Android handset for offline use.
There were even rumors last October that Apple was interested in buying Spotify, but the European company denied the rumor and said it had no intention of selling.
Last month, a general manager with Spotify said that the licensing agreements necessary for the service to launch in the U.S. were in the process of wrapping up. Jonathan Forster said that the company had agreed to a "faster monetization strategy" than it would have preferred.
In Europe, Spotify has 10 million active users and 10 million subscribers who pay the subscription fee of 10 Euros per month. The company's new U.S. headquarters is expected to be in New York.
While Apple's iCloud does not have an announced streaming component, one component of it does currently allow users to re-download music they have already purchased from the iTunes Music Store. And later this year, Apple will offer iTunes Match, which will scan a user's iTunes library and match songs with those on Apple's own iTunes servers, allowing them to be downloaded or even replaced with higher quality copies for $24.99 per year.